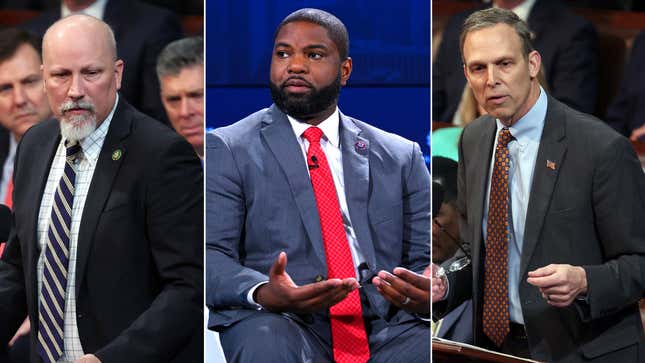 During this second, heady day without an operating House of Representatives, as House Republicans continue to humiliate Rep. Kevin McCarthy (R-Calif.) in his quest to be speaker, I am living for the drama and hilarity of it all. But what I'm not living for is several House Republicans inexplicably invoking the names of Black civil rights icons while voting against McCarthy.

On Wednesday, in the fourth round of voting for speaker, one of McCarthy's Republican dissenters, Rep. Chip Roy (R-Texas), cast his vote for Rep. Byron Donalds (R-Fla.), who is Black. Roy self-righteously, almost comically, accompanied his vote with a quote from Martin Luther King Jr.: "We do not seek to judge people by the color of their skin but rather the content of their character," Roy said. "There's an important reason for nominating Byron, and that is: This country needs a change. This country needs leadership that does not reflect this city, this town that is badly broken."
I'm honestly impressed by the boldness with which Roy all but declared that King's and Donalds' politics must be indistinguishable because of their race. The lack of self-awareness is really something, especially while voting for a far-right congressman as speaker, and invoking the politics of a left-wing, socialist civil rights legend while doing so.
In case you thought that bizarre stunt was a one-off, I give you: the sixth vote for speaker, later on Wednesday afternoon! While casting his vote for Donalds, Rep. Scott Perry (R-Penn.) this time invoked abolitionist leader Frederick Douglass: "The first Black members to serve in this body were Republicans," Perry said. "As a matter of fact, you probably also know that Frederick Douglass, who worked with Abraham Lincoln to emancipate the people of color in this country, said he would never be anything but a Republican."
I could not get through watching this without physically cringing. Between Perry clearly having no conception of political history and former President Donald Trump quite literally thinking Frederick Douglass was alive in 2017, Republican politicians proved again that they still haven't picked up a single history textbook. Sure, it's fucking funny—but it's aggressively embarrassing, too. Both things can be true!
Referencing racial justice icons whose work they know nothing about is clearly the only way House Republicans know how to talk about their Black colleagues, and it's just sad! As anti-McCarthy House Republicans grow increasingly emboldened and manic, who knows what they'll say or do next?? If I were McCarthy, I'd perhaps just stop diving into vote after vote I know I'm going to lose. That is…unless he likes it…? In that case, no judgments here, Kev!