On Tuesday night, a third-year student at the University of Virginia named Martese Johnson was reportedly thrown to the ground by local law enforcement and bloodied in public on the main social drag of campus—all apparently because he tried to use a fake ID.
Ana Gasteyer Satirizes the Girl Boss in 'American Auto'
Martese Johnson is black. All reports are alleging that he did not resist the officers' use of force in any way, and the officers continued to brutalize him while onlookers pleaded with them to stop. A graphic photo taken at the scene is now circulating widely on the internet.
As of now, there has been no formal response from UVA administration. [Edited to note the Cavalier Daily has since reported a fourth-year college student stating that UVA President Teresa Sullivan has "put in a request to Virginia Gov. Terry McAuliffe to open a state investigation."]
G/O Media may get a commission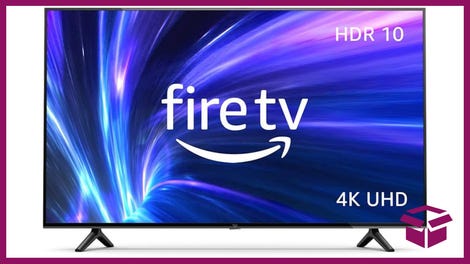 42% Off
Amazon Fire TV 50" 4K Smart TV
The above picture was included in an email sent to the UVA community by a group of concerned black students, which also details the alleged incident:
This morning Martese Johnson emerged with a head injury requiring 10 stitches.

He was brutalized by Virginia ABC law enforcement outside of Trinity Irish Pub. His face was bloodied. His body was bruised.

Outside of the doors of Trinity Irish Pub, a mass of University students bore witness to the officer's animalistic, insensitive, and brute handling of Martese. He was left with his blood splattered on the pavement of University Avenue.

Today, we are reminded of the gruesome reality that we are not immune to injustice; as University students, we are not impervious to the brutality that has reeled on news cycles around the country. We have marched and shouted that we are Trayvon Martin and Michael Brown, but the proximity of this morning's brutality to a member of our community has deepened that wound. It is no longer happening only on national television—it is a reality here and now at the University of Virginia that we must face as a collective.

After Martese was denied entry to the bar, he found himself suddenly flung to the ground. The brutish force used resulted in his head and bodily injuries. His treatment was unprovoked as he did not resist questioning or arrest. In confusion, with blood painting his face and creating a pool on the bricks of the corner, he yelled out for mercy. Though he lay bleeding and crying out, officers continued to hold him to the pavement, pinning him down, twisting his arm, with knees to his back until he was handcuffed.

As students pleaded with officers to lift Martese from the ground they were pushed away, and some were even handcuffed and threatened with possible arrest if they did not leave the scene.

We demand there be a swift and thorough investigation on the state, local, and University levels. We have seen what happens at the University when we allow problems we have long known exist to be handled quietly, so we will not be quiet. We demand noise from each other, noise from professors, noise from administrators. Martese, like any other student at this university, like any other person in this country and in this world, deserves more than our uproar: he deserves follow through and intentional action.

Look forward to a follow up email regarding further plans and actions.

Sincerely,

Concerned Black Students
According to the Cavalier Daily, Johnson was "arrested on charges of resisting arrest, obstructing justice without threats of force, and profane swearing or intoxication in public" and held in jail overnight.
Martese Johnson is a highly involved student at the University of Virginia: an Italian and Media Studies major who plans on going into business, a member of the Kappa Alpha Psi fraternity (a historically black frat), a leadership development chair in the Black Student Association; he was also a leader in the major student governing body (the Honor Committee). Sources tell me he was also an IMP: a member of a prestigious semi-secret society, one of three major secret societies on grounds.
A march is being organized in Charlottesville for 8 p.m. tonight, from the main landmark on campus—the Rotunda—to the police department downtown. No incidents of prejudicial violence on this scale have occurred at the University of Virginia in recent memory, although the racial climate in Charlottesville is what you might expect from a relatively conservative institution founded by Thomas Jefferson. Graduate student Maya Hislop told me, "Black students on grounds are highly familiar with this kind of abuse (denied access to places, checking IDs of black students and not checking IDs of white students), but I do not know that it has ever been this violent."
She added, "We knew that increased police presence for the protection of women would have a negative impact on black students. It sucks that we had to be proven right this way."
[Post was updated to add the details about Johnson's arrest and Sullivan's response as reported by the Cavalier Daily, as well as the second photo of Johnson. Wording in the first paragraph was also changed to clarify that the officers involved in this altercation were ABC officers and not CPD.]
Image via Timothy Jarrett/Flickr