Trump administration's plans to overhaul the Obamacare mandate on birth control coverage have long been expected. Earlier this week, multiple outlets reported that the Trump administration had drafted a rule that would allow religious employers to opt out of the mandate requiring birth control coverage in health insurance plans. But it looks like Trump's plans to dismantle the Affordable Care Act mandate, which requires that insurers cover birth control with no out-of-pockets costs, will be even more extensive than initially reported.

According to documents obtained by Vox, the Trump administration might allow "any employer to seek a moral or religious exemption from the requirement." The new regulation, which is currently a draft, is extremely broad and, as Vox notes, if implemented in its current form, "would significantly broaden the type of companies and organizations that can request an exemption."
The regulation chastises the original ACA religious exemptions for excluding "non-profit organizations that have an objection to contraceptions based on moral convictions but not religious principles," as well as excluding "for-profit businesses or organizations." The document cites the Hobby Lobby case, in which the Supreme Court ruled that the birth control mandate infringed on the religious freedom of closely-held companies, as well as the numerous lawsuits brought against the Obama administration over the mandate as evidence of the failure of the current religious accommodations. "The accommodation process has not satisfied the religious objections of numerous organizations with sincere religious objections to contraceptive coverage or resolved the pending litigation," the regulation states.
Trump has long signaled that he would repeal the Obamacare mandate for religious organizations beyond the current exemption (let's all remember that many religious groups argued that simply filling out a form was a violation of their First Amendment rights). Health and Human Services Secretary Tom Price has been a vocal critic of the mandate. As a member of Congress, Price rejected claims that women were unable to afford birth control. "Bring me one woman," who is unable to afford birth control, Price dared in 2012. "There's not one," he added.
In early May, Trump invited the Little Sisters of the Poor to the White House. The religious order fought the Obamacare mandate, arguing that it was a violation of their religious freedoms. There to sign an executive order requiring three departments to "address conscience-based objections to the preventive-care mandate," Trump said that the Little Sisters had "sort of just won a lawsuit."
G/O Media may get a commission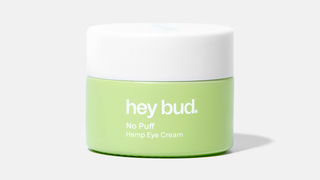 15% off
Hey Bud - No Puff Hemp Eye Cream
Update: In a statement, Planned Parenthood Federation of America called the Trump administration's plan a "farce" adding that it exposes the hypocrisy of the administration's " 'women's empowerment' agenda and endangers a woman's ability to make the most basic and personal of decisions – when and if to have a child." PPFA noted that the ACA mandate has saved women "$1.4 billion in its first year alone." "Think about it," the statement says, "under this rule, bosses will be able to impose their personal beliefs on their female employees' private medical decisions."