Currently, the U.S. military bans trans service members, forcing many to choose between hiding or leaving. But according to a newly released report, there is zero medical reason for the prohibition, and enforcing it is pricy and unfair. Not to mention, uh, bullshit.
That's according to the Associated Press, reporting on the findings of a commission led by former surgeon general Joycelyn Elders, who said:
"We determined not only that there is no compelling medical reason for the ban, but also that the ban itself is an expensive, damaging and unfair barrier to health care access for the approximately 15,450 transgender personnel who serve currently in the active, Guard and reserve components.
The report was commissioned by the Palm Center, a think tank at San Francisco State University devoted to research on "gender, sexuality and the military" that's supported in part by a grant from billionaire Jennifer Pritzker, who once served in the military and came out last year as trans herself.
Several countries, including Australia, Canada, England and Israel, already welcome trans military personnel. The commission concluded that the ban—which is decades old—is based on antiquated ideas about gender identity and mental health, as well as dated notions of how much it would cost the military to support trans service members medically. According to their findings:
Facilitating gender transitions "would place almost no burden on the military," adding that a relatively small number of active and reserve service members would elect to undergo transition-related surgeries and that only a fraction might suffer complications that would prevent them from serving. It estimated that 230 transgender people a year would seek such surgery at an average cost of about $30,000.
G/O Media may get a commission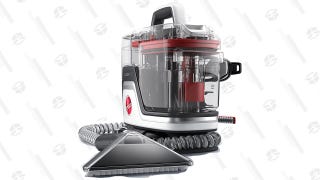 Save $10
Hoover CleanSlate Plus Carpet & Upholstery Cleaner
That's not much money to begin with, and when compared to the frankly absurd amount of taxpayer money that goes into Pentagon boondoggles, it's basically spare change we could scrounge up from between the couch cushions.
The report recommends that Obama, rather than fooling around with Congress, simply lift the ban via executive order, then the Pentagon can develop rules for how to assign anyone transitioning.
Of course "Center for Military Readiness" snot Elaine Donnelly was ready and waiting to paint a dire picture for the AP, based on... her own fantasies, I guess? She suggested such a change would increase sexual assaults and "infringe on the privacy of non-transgender personnel."
Meanwhile, back in reality land, Retired Brigadier General Thomas Kolditz (also on the commission) predicts such a change would likely reduce problems like harassment and suicides, as well as assault. By all accounts, the U.S. military has taken the end of DADT, for instance, with professionalism and at least one sold-out drag show.
A DoD spokesperson told the AP that, "At this time there are no plans to change the department's policy and regulations which do not allow transgender individuals to serve in the U.S. military."
Photo via Getty.