Just as Kanye fodder begins to stale in the TMZ newsroom, a parachute of fresh provisions drops from the Kardashian cabal: Khloé and the father of her child/NBA player also Tristan Thompson are "fully back together," Us Weekly reports, after images of Thompson making out with several other women surfaced days before she had the baby. People noticed that Khloé shut down the comments on their Instagram photos, whether America likes it or not. We must contain ourselves and forge ahead.
Here's some knowledge from well-placed sources:
"Those around Khloé are trying to be as supportive to her as they can. It's hard because if everyone distances themselves from Tristan, they'll risk losing Khloé," the insider also notes. "Luckily there's this buffer time. She always planned to stay in Cleveland the first three months. Now with Tristan in the playoffs for possibly another month, no decision needs to be made right now."
"The main question everyone has now is: 'When will he cheat again?' It's not a matter of will he? But it's a matter of when will he," the insider dished. "This should be the best time of her life but it's been overshadowed with something so awful."
"You'll never hear [Kylie and Kendall] say anything negative about Tristan publicly. They'll always suck it up. They'll never tear down one of their sisters. If Khloe loves him, they'll love him because he's in her life and is connected to them forever now."
G/O Media may get a commission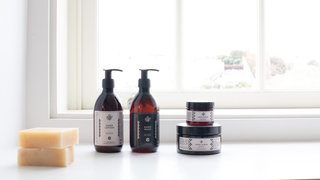 Exfoliate and Hydrate
The Handmade Soap Company
TMZ:
Sources close to Khloe tell TMZ, as recently as last week she was "done" with Tristan. We're told she was staying in Cleveland with the baby for the time being because Tristan was on the road for the NBA playoffs and she didn't want to deal with L.A.
"Khloé seems happy. She loves being a mom. She's focused on keeping her family together. She seems okay with Tristan — there's no talk of a split," the source said.
"Tristan has been consistently cheating on Khloé," an insider alleged to PEOPLE [around April 10th]. "He's a serial cheater. And there will be more women to come out of the woodwork."
A representative for the restaurant where they were seen had no comment for People.
---
Kicking off the umpteenth trial of the century, alleged sex cult leader Keith Raniere and accused celebrity madame Allison Mack, who have both been charged with sex trafficking, appeared in court yesterday. Mack, who is out on bail, reportedly looked "very stoic" and "definitely seemed to know the seriousness of what is happening,"

The court date is set for October 1st. Prosecutors allegedly have a ton of evidence.
---
I need coffee first.
---