A new study linking a sudden drop in breast cancer diagnoses to a 2002 federal warning against using hormone-replacement drugs after menopause has spurred more debate about the safety of the treatment.
The Wall Street Journal reports that 210,000 women were diagnosed with breast cancer every year before 2002, but that number dropped to less than 190,000 each year and stayed low through 2005. Some doctors speculated that the drop was due to wide-scale abandonment of postmenopausal hormones after the National Institutes of Health warned in July 2002 that long term use of the drug Prempro, which contained estrogen and progestin, increased the risk of breast cancer, heart and stroke. Other doctors said stopping hormone treatment would not cause such a sudden drop and said it was due to a decline in screening.
A new study published today in The New England Journal of Medicine supports the claim that women abandoning hormone therapy caused the drop-off. USA Today reports that breast cancer risk declines falls markedly within two years of quitting HRT treatment. "It looks like after a couple of years a woman is pretty much back to normal," says Rowan Chlebowski, lead author of the study. "That's very encouraging." The new research analyzed data from the Women's Health Initiative, a landmark federal study, that assigned 16,000 postmenopausal women to take Prempro or a placebo. In 2002 the women stopped taking the drug and the new analysis found that the women's breast cancer risk fell rapidly in the next two years, even though their screening mammogram rate didn't change.
A related study was published last month in the journal Cancer that also found that users of estrogen and progestin had their breast cancer risk return to normal within two years of ending the treatment. Eugenia Calle, the lead researcher of that study, says that which she believes the federal warning helped fuel the 2002 drop, "we can't quite tie it up in a neat bow. They should have dropped a little slower and more continuously."
Doctors still say that taking hormones during menopause is safe, but recommend that women take the drugs for as few years as possible. Before the warning, six million women were taking Prempro for strengthening bones, curbing hot flashes and vaginal dryness, and other benefits. Chlebowski says that for about two years combined hormone therapy is safe, but the research "really suggests that there's a great benefit to women for stopping, because the risk goes down almost immediately." He recommends that women use hormone replacement therapy for no more than two or three years, and says even then they should only take the drugs if they are experiencing severe menopausal symptoms that interfere with their quality of life.
G/O Media may get a commission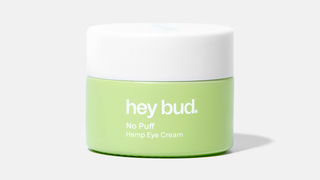 15% off
Hey Bud - No Puff Hemp Eye Cream
But, in a new U.S. News and World Report story, author Deborah Kotz points out that the new research does not mean women should panic about using hormones if they do have bad symptoms because the doses women were taking when the research was originally performed were about twice that of the low-dose therapy doctors give women today, and if women do only take hormones for a short time, their increased risk will disappear within two years.
Breast Cancer's Decline Analyzed [The Wall Street Journal]
Breast Cancer Risk Drops After Women Stop Hormone Use [USA Today]
Hormones And Breast Cancer: 3 Reasons To Not Panic About HRT [US News & World Report]