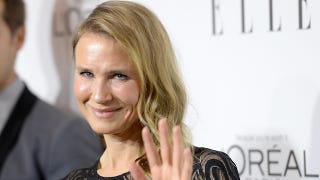 Yesterday, the internet collectively lost its mind after photos of a not-so recognizable Renée Zellweger surfaced out of the Elle Women in Hollywood Awards. Noting how different she looked from her apple-cheeked Bridget Jones days, everyone acknowledged the extreme pressures put on female actresses over the age of 40 and moved on with their lives ridiculed her appearance and could not stop fReaKing oUt.
And because we live in a world where such behavior merits a response, Zellweger gave one to People:
"I'm glad folks think I look different! I'm living a different, happy, more fulfilling life, and I'm thrilled that perhaps it shows," Zellweger, 45, says of the attention she received after an appearance at the ElleWomen in Hollywood Awards in Beverly Hills on Monday.

...

"My friends say that I look peaceful. I am healthy," Zellweger continues. "For a long time I wasn't doing such a good job with that. I took on a schedule that is not realistically sustainable and didn't allow for taking care of myself. Rather than stopping to recalibrate, I kept running until I was depleted and made bad choices about how to conceal the exhaustion. I was aware of the chaos and finally chose different things."
¯\_(ツ)_/¯
[ People]
---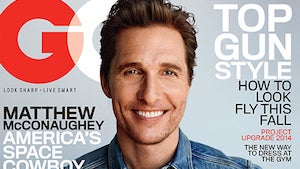 Noted race scholar Matthew McConaughey shared his thoughts on the push to change the Washington Redskins team name in the latest issue GQ.
"What interests me is how quickly it got pushed into the social consciousness," he told the magazine. "We were all fine with it since the 1930s, and all of a sudden we go, "No, gotta change it"? It seems like when the first levee breaks, everybody gets on board. I know a lot of Native Americans don't have a problem with it, but they're not going to say, 'No, we really want the name.' That's not how they're going to use their pulpit."
Right, because in this country, we're allllllways giving our decimated native population a powerful pulpit on which to be heard.
If the team name does change, McConaughey bravely promises that he'll take it in stride: "It's not going to hurt me. It's just... I love the emblem. I dig it. It gives me a little fire and some oomph. But now that it's in the court of public opinion, it's going to change. I wish it wouldn't, but it will." [GQ]
---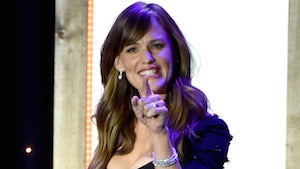 After walking the red carpet alongside the newly "peaceful" and "healthy" Renée Zellweger at the Elle Women in Hollywood Awards, Jennifer Garner gave an impassioned speech on sexism.
"The fact that there even needs to be a Women in Hollywood event is a little bit sad. I mean, the men in Hollywood event is every day—it's called Hollywood. Fifty-one percent of the population should not have to have to schedule a special event to celebrate the fact that in an art that tells the story of what it means to be human and alive, we get to play a part," she told the audience. [ E!]
---
We were doing 30 Rock and we needed to cast Jane Krakoski's estranged, Florida dirtbag mom. And I said, 'Oh my God, do you think we could get Jan Hooks, because she's an idol of mine?' And the answer was like, 'Yeah, you can get her.' She was living in Woodstock and the phone was not ringing. And we called her and were like, 'Do you want to do this?' And she was like, 'OK.' And she was actually a little shy about kind of jumping back into the game and she came down and she was so funny...

Jan was so funny and the crew was so mesmerized," Fey continued. "It made me sad when she passed and it made me mad at the time that how available she was. Jan should have had a bigger career. Jan deserved a big movie career, certainly as big as Rob Schneider's fucking [career]. She was a bigger star on SNL.
Imagining Hooks saying "I got the meat, Jack" to Alec Baldwin on 30 Rock will never fail to make me laugh.
Images via Getty/GQ.