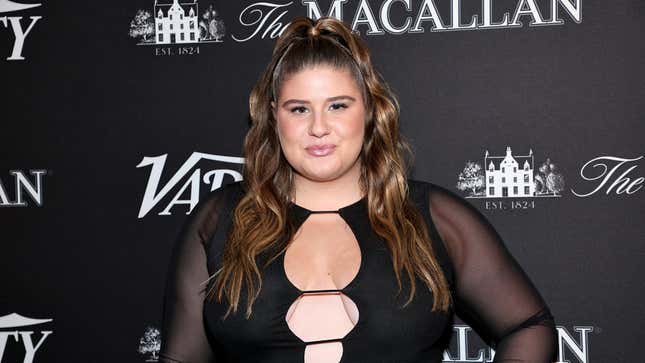 Remi Bader, the model and influencer you've likely seen doing try-on hauls of allegedly body positive fashion collections, has chosen violence this week, managing to shade her doctor, a famous drug, and the celebrities who use it in one fell swoop.
The 27-year-old was a guest on Tuesday's episode of the Not Skinny But Not Fat podcast (certainly not what I'd name my podcast) hosted by Amanda Hirsch, a fellow Kardashians-documenter. Bader, who has been open about her struggles with binge eating, said that in 2020, her doctor suggested she try the drug Ozempic. Cue ominous music.

Fast forward a few years, and Ozempic, a medication approved by the Food and Drug Administration typically prescribed to people with Type 2 diabetes, is reportedly being commandeered by the Hollywood elite. According to the FDA, the drug stimulates insulin production, lowers blood sugar, and helps to regulate appetite. The medication has become so popular amongst the rich that those with diabetes are actually struggling to get ahold of it. This is Ozempic's villain origin story, if you will.

Before it became "this trendy drug," Bader said her doctor prescribed her Ozempic for "actual health issues:" She was pre-diabetic, insulin resistant, and gaining weight.

"They said I need this. And I had a lot of mixed feelings," she said.
The medication did help her lose weight and temporarily alleviated her binge eating, which she had struggled with for years. But she didn't want to become reliant on it and stopped taking it a few months later. She told Hirsch that she gained back double the weight she'd lost, and her binge eating worsened dramatically.
Bader then saw a second doctor, who said her post-Ozempic problems were "100% because I went on Ozempic. ...I didn't wanna be obsessed with being on it long term. I was like, I bet the second I got off I'm gonna get starving again. I did, and my binging got so much worse. So then I kind of blamed Ozempic."

Bader said she thinks Ozempic should only be prescribed to people with diabetes, but given our culture's obsession with get-skinny-quick products, that's a bit of a pipe dream. It's a bleak state of affairs when people seek thinness above all else—but it's even bleaker for the people who can't get the meds they need.