It's been a year since Heath Ledger died, but many of his friends and colleagues have never spoken publicly about the beloved actor. Until now. Entertainment Weekly has the scoop:
In addition to learning that Ledger was actually relieved he didn't win the Oscar for Brokeback Mountain (he thought being an "Oscar-winner" would put too much pressure on the types of films he wanted to do), Ledger hated doing interviews and publicity, "hustling" for a film or for awards season. But by all accounts, he loved acting, and inhabiting a role. His agent, Steve Alexander, says: "I cringe when I read that he was a tortured soul or a Method actor who couldn't get out of his own way because he'd played this dark character. It's just not true."
Ledger did, however, have dreams about getting out of Hollywood. Catherine Hardwicke, who directed Ledger in Lords Of Dogtown, explains: "During the awards and celebratory parties for Brokeback, he told me, 'I don't want to work. I want to take a year or two off where Michelle and I will move to Holland and ride bikes.'" While there are great stories about Ledger from early in his career — including from 10 Things I Hate About You costar Julia Stiles — you've got to love this anecdote from Donna Morong, the casting director of 10 Things:

Heath drove up in a convertible, top down, and jumped out of the car without even opening the door. He was adorable. Gorgeous. So full of life. He smoked cigarettes and was wearing tight, white jeans. He was impish, like he was in on a joke, like he had this secret that tickled him. He was living at a fast speed. It seemed like he was desperate to grow up.
And Gil Junger, the director of 10 Things, says that Ledger exuded sex appeal in his audition. ''I said, 'I have never wanted to sleep with a man, but if I had to, that would be the man. Please hire him immediately.''
In addition to praise from Mel Gibson, regarding his work on The Patriot and accolades for his role in Monster's Ball, Ledger is remembered by friend Wes Bentley, who was stunning as Ricky in American Beauty, and starred with Ledger in 2002's The Four Feathers. Bentley tells EW: ''I haven't talked about it until now. I'm really nervous.'' He continues:

"Heath didn't give himself enough credit for his talent as an actor. He didn't know what he had so he decided to enjoy what was being offered to him. I wanted to explain to him, 'Please wake up to how great you are.' He didn't have any classical training. He didn't have anyone making him feel like he had credibility. The only voice he listened to was his own self critic, because it was the loudest."
G/O Media may get a commission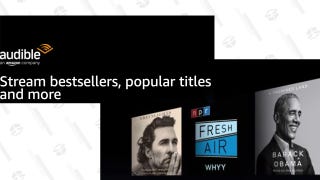 FREE
Audible Premium Plus 3-Month Free Trial
Ledger's agent, Alexander, seems to agree that Ledger often lived in his head and was cerebral about acting. Says Alexander: "Heath generally backed out of almost every movie that he did. He would say yes to something and then he really started thinking about it and it would spin him out. He'd go away and he'd tinker and play and then we'd have a conversation several weeks later and he'd say, 'I got it. I figured it out.'"
As for the drinking and the drugs, everyone EW spoke to agrees: Ledger was clean by the time he died; he'd stopped drinking and wasn't smoking pot and his biggest problem was insomnia. Not that he didn't have a "vibe" that often put people on edge: Hardwicke recounts:

"In most of Dogtown, Heath's character is drinking or high, so that's a state he had to get to every day. I did find out that most times when he was drinking a beer in a scene, he'd ask the prop people for a real beer, not a fake beer. So I'm thinking, Is this anything I should worry about? With other actors, it was a problem. They came on the set too fucked up and couldn't say their lines. For Heath, that was never an issue. But you just never know. There was one scene where his character is losing it at a party. He got up on the roof, and we didn't know if he was going to fall off and kill himself or throw his surfboard at somebody or what. Everybody was semi-terrified. You just didn't know where his chemistry was. I literally prayed. Heath's up there on the roof, hanging over the edge. I was like, 'I want somebody behind him to grab his leg if he needs it and somebody below him.' You feel that in the film. You don't know how far this guy is going to go. That's how we felt in some ways about Heath.
Despite that, Wes Bentley maintains that Ledger was not a downer:

"Heath's fun clouded its way through a room. It was infectious. If you were stuck in an elevator with him, you'd be entertained. He liked to go to Vegas dressed snazzy. He'd walk the streets of Vegas and never really have a plan, dressed up in a pink blazer and a tie. He liked to get a boat and travel to the Greek islands. Some people think he'd party too much and take drugs. That wasn't the case. It was young energy. He was high off life."
(Check out this picture of Ledger and Bentley in happier times.)


Whether Ledger gets nominated for The Dark Knight remains to be seen, but Ledger did love playing the Joker. Charles Roven, producer of The Dark Knight describes the moment he played the bank vault scene for Ledger, saying: '''You have to see this. You haven't seen yourself be the Joker!' He watched it, and it just blew his mind. He was so thrilled, he was just laughing. He said, 'I want to see it again!' It's not an easy thing to rethread an IMAX, so it took about 15 minutes but we showed it to him again. That was the last time I saw him." Says Ledger's agent Steve Alexander:

"Heath liked to torture me, in a playful way. He'd say, 'I'm going to disappear after The Dark Knight.'"