Authorities in Brazoria County, Texas have confirmed that human remains found on a remote patch of private land belong to Kelli Cox, a 20-year-old college student who vanished in 1997. William Reece, a former truck driver serving 60 years on a kidnapping charge, told police he buried Cox there. Reece is linked to the disappearances of at least five women in Texas and Oklahoma.
Cox was a student at University of North Texas in Denton at the time of her disappearance; she was the mother of a 19-month-old daughter . She disappeared on July 15, 1997, after she toured the Denton City Jail with her criminology class. Cox locked herself out of her car and walked to a nearby gas station to phone her boyfriend to bring her a spare; the police wouldn't allow her to make a long-distance call from the station. After finishing the call, Cox bought a soda and began walking back to the car. She never made it.
Denton police said William Lewis Reece became a suspect early on in the Cox investigation; he was never charged and the case went dead for decades. Reece, a trucker, lived in both Texas and Oklahoma and did prison time for a series of violent crimes against women. He was convicted of first-degree rape in 1987, as well as kidnapping and sodomy charges, and was sentenced to 25 years. An appeal brought that down to 15, and Reece ended up serving nine. He was released in 1996, and came to Texas the same year.
Authorities have since named Reece as a suspect to attacks on at least five girls and women, all in 1997. Laura Smither, 12, vanished while jogging in April of that year; her body was found later that month. Tiffany Johnston, 18, and Jessica Cain, 17, went missing from Oklahoma City and La Marque, Texas, respectively, a month apart from each other.
Sandra Sapaugh, 19, is the only woman who escaped. In May of that year, Reece kidnapped her at knifepoint. Sapaugh was also making a call from a gas station pay phone when she was abducted; she told police that when she returned to her car, she found one of the tires had been slashed.
G/O Media may get a commission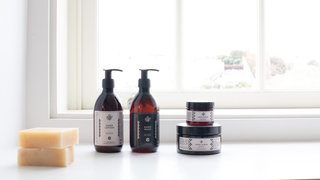 Exfoliate and Hydrate
The Handmade Soap Company
Sapaugh testified that a man in a white truck pulled up behind her car almost immediately, first offering her a ride and then forcing her into the car at knifepoint. She escaped by jumping from the car, and, though badly injured, was eventually able to identify Reece as her attacker after being hypnotized. He was convicted of kidnapping and aggravated assault and sentenced to 60 years.
In March of this year, Reece was seen in handcuffs, guiding police to sites near Houston where he said he'd buried both Cox and Cain. On March 18, investigators found remains near Houston's Hobby airport that they believe could belong to Cain. On April 5, investigators found another set of human remains near Rosharon, Texas, about 30 miles south of the city.
The Denton Police Department said in a release Monday that analysis of dental records showed the remains from Rosharon belong to Cox. DNA testing is also being performed, a process which could take several weeks.
After Cox vanished, her mother, Jan Bynum, was left to raise her daughter Alexis, who is now older than Cox was when she disappeared. Bynum told local news crew KDAF last week that she just wanted answers: "I always said that if she was gone, I'd want to know," she said. "Then I can bring her home and put her to rest. I'd know she's not being harmed every single day."
It's unclear if or when Reece will face new charges. Kathryn Casey, a crime novelist who interviewed him in 2013, called him "very cold, very calculating—a very manipulative man."
---
Kelli Cox in 1997 with Alexis. Screenshot via YouTube/Dallas Morning News