A day after the FBI announced that it would investigate the San Bernardino shootings as a terrorist attack, Reuters is reporting that Tashfeen Malik was radicalized in Saudi Arabia (before arriving in the United States, Malik spent years in Saudi Arabia after leaving her native Pakistan).
Malik and her husband, Syez Rizwan Farook, killed 14 and injured 17 on Wednesday. The FBI confirmed that Malik, 29, posted a Facebook message pledging allegiance to ISIS moments before the attack. Earlier today, ISIS praised the attack but did not claim responsibility.
Malik's Pakistani relatives told Reuters that "she and her father seem to have abandoned the family's moderate Islam and became more radicalized during years they spent in Saudi Arabia." According to the news agency, Malik moved with her father to Saudi Arabia when she was a toddler—the move appears to have been prompted by a family disagreement over an inheritance. Once there, he cut off all contact with the family and, according to relatives, turned to a "stricter form of Islam."

"From what we heard, they lived differently, their mindset is different. We are from a land of Sufi saints ... this is very shocking for us," a relative told Reuters.
Though Malik returned to Pakistan on a number of occasions—she studied at Bahauddin Zakaria university between 2007-2012—officials there say there is little evidence that she was particularly radical. In an interview with the Associated Press, one of Malik's aunts said that Malik became more "zealous" three years ago.
G/O Media may get a commission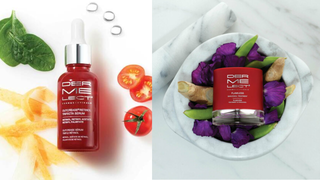 Save $19
Retinol Renewal Kit
Malik's extended family remains baffled by the shooting: "This is a mindset that is alien to us," her uncle said in an interview.
FBI agents search Syez Rizwan Farook and Tashfeen Malik's home in San Bernardino, Thursday, Dec. 3, 2015. Via AP.