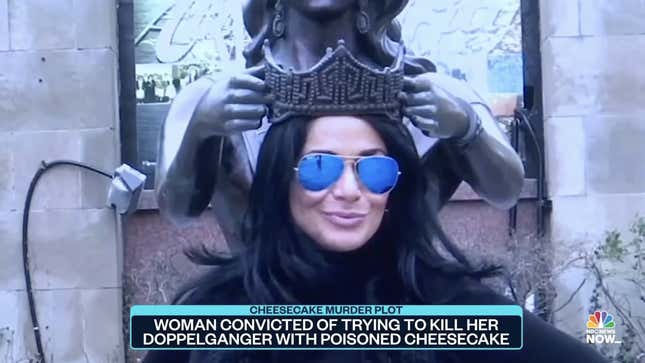 There are two kinds of people in life: those who would poison their friend's cheesecake, and those who would absolutely eat the poisoned cheesecake like an idiot. I fear I am the latter.
On Wednesday, a Brooklyn woman named Viktoria Nasyrova was sentenced to 21 years in prison for, yes, attempting to murder her friend with a poisoned cheesecake. Is anything more New York than a cheesecake homicide? According to NBC News, Nasyrova, a 47-year-old Russian woman, had hatched an identity theft plot targeting her friend who looks like her. Nasyrova allegedly laced a cheesecake with phenazepam—the equivalent to benzodiazepine, but developed by the Soviet Union and found only in Russia, according to the district attorney's office—and tried to kill her and take over her life in 2016. The victim survived the cake-tastrophe, but Nasyrova reportedly still managed to steal the woman's Ukrainian passport and $4,000 in cash.
Nasyrova was initially convicted of second-degree attempted murder, first-degree attempted assault, second-degree assault, first-degree unlawful imprisonment, and petit larceny, and had faced up to 25 years in prison. But the cream cheese thickens! Apparently, Nasyrova, who will likely be deported back to Russia after her imprisonment, does want to go back to her birth country, where she is wanted for another murder that took place in 2014. In a CBS News interview, Nasyrova denied any involvement in that case, saying, "I'm not a killer. I am woman! Only woman!"

First of all, I need more details. What flavor was the cheesecake? Did Nasyrova make it from scratch, or did she buy it at a bakery before lacing it with poison? Did she drop it at the woman's door and run away like a ding-dong ditcher on Halloween, or did she sit and watch her friend eat the cake like a true psychopath, just smiling and nodding with encouragement like Jack Nicholson in Anger Management?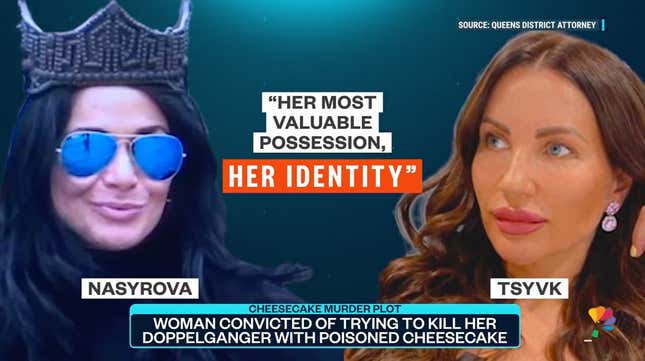 Personally, I find the icing on the cake of this murder plot gone wrong to be the photo of Nasyrova NBC News keeps using. She's in aviators with a crown on her head? Could they not find a less deranged photo of her? A mugshot would also do (noting that if I was blessed with the task of taking Nasyrova's mugshot, you would have to pay me so much money not to prompt her with, "Say cheese…cake!").

Wishing Nasyrova all the best as she embarks on her journey in prison. Somebody warn the inmates not to let her bake for them.