As the news of Donald Trump's "win" solidifies from a nightmare from which we can't awake to an increasingly dark reality, the Tiny Handed One has named RNC Chairman Reince Priebus his chief of staff. Not to be a Debbie Downer, but this is probably the least detrimental appointment he'll make in the coming weeks.

It feels like just yesterday that Trump was crooning about "draining the swamp," but it seems as though Priebus, a "Washington insider" if there ever was one, was plucked from the drain like a water-logged hairball. Stephen Bannon, the chairman of Breitbart News and other top contender for the job, has been awarded the position of chief strategist and senior counselor.
Trump issued a statement:
"I am thrilled to have my very successful team continue with me in leading our country. Steve and Reince are highly qualified leaders who worked well together on our campaign and led us to a historic victory. Now I will have them both with me in the White House as we work to make America great again."
G/O Media may get a commission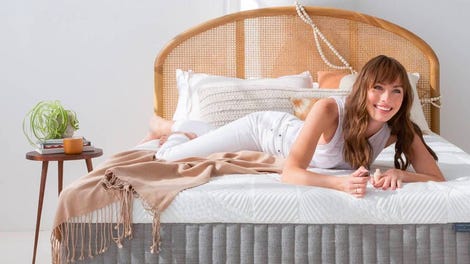 Sleep Sale
Sleep Sale - Brentwood Home
Bannon issued a statement:
"I want to thank President-elect Trump for the opportunity to work with Reince in driving the agenda of the Trump Administration. We had a very successful partnership on the campaign, one that led to victory. We will have that same partnership in working to help President-elect Trump achieve his agenda."
Priebus told the New York Times that he looked forward to working with Bannon and Trump "to create an economy that works for everyone, secure our borders, repeal and replace Obamacare and destroy radical Islamic terrorism."

Here's my statement: I am going to vomit.