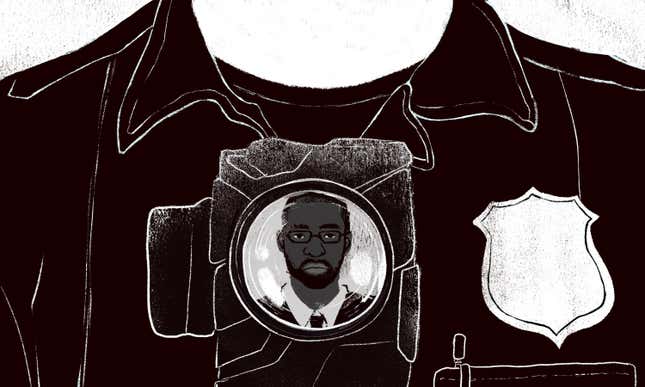 On September 11, police in Washington, D.C. shot and killed Terrence Sterling, a 31-year-old unarmed black man. What we know, so far: Sterling was driving a motorcycle around 4 a.m., which police say he was doing "recklessly." A witness, Kandace Simms, saw police pull in front of the motorcycle in a maneuver she sensed was an effort to block Sterling, after which the police car and Sterling's vehicle collided. According to Simms, the cop in the passenger seat, who we now know as Officer Brian Trainer, rolled down the window, stuck out his gun, and shot Sterling two times. Her account conflicts with the police narrative. The medical examiner has since ruled his death a homicide.

The body-camera footage released Tuesday, though, did not depict any of this. The cops' cameras were turned on only after the shooting, and what was released does not show us what transpired beforehand. Instead, it is a clip of an officer—Trainer or his partner; it's unclear—performing CPR on Sterling as he bled out, shot through the neck, and dying before his—and our—eyes. "Keep looking at me buddy, keep looking at me," the officer gulps.
DC Mayor Muriel Bowser ordered the release of the video after Sterling's family had viewed it, ostensibly to assert some level of transparency in a year full of demands to increase body cameras on cops, and to provide the public with some semblance of truth—that is to bolster the illusion that when citizens ask a police force for accountability, it will duly cooperate. Mayor Bowser, upon releasing the video, said as much, that she hoped to "create broader accountability between law enforcement and communities, and to maintain open and transparent government."
And yet the video does not illuminate anything new about what happened to Terrence Sterling that night. We already knew that he was shot, and that he died. It does not depict the actions that led to his death. The video would not be meaningfully distinct from a "snuff film"—as writer April Reign once put it—had it not shown us the part where the police were doing their jobs, performing CPR, trying to save a life despite the fact that it was they who had snuffed it out. We cannot have accountability without an actual accounting, however: For what exactly happened before Sterling was shot, for what happened not in the moments when the police looked their best as they gave CPR to a dying man, but the moments when they likely looked their worst. This footage is not that. This footage is police propaganda being called transparency.
This video represented a blatant turning point, a time when video footage of the end of a black life at the hands of police was not just a document of the impact of racist police officers, but a way for them to use it to shift the narrative in their favor, despite the fact that the outcome is the same, CPR or no. Terrence Sterling is dead. Brian Trainer shot him. Its existence brings up once more the question of how much a person can bear—and more specifically, what is the point of seeing endless footage of black people dying, if the system doesn't change? Black people are still killed at the hands of police at a devastating rate, and those police infrequently face consequences for doing so.
This topic has been covered before, reports and essays acting as markers for when individual writers, and a collective community, finally reach the extremities of their own trauma. In the New York Times, Jenna Wortham identified the "psychological toll of racism" as a likely culprit of her flagging physical health. PBS Newshour's Kenya Downs interviewed Monnica Williams, a clinical psychologist and director of the University of Louisville's Center for Mental Health Disparities, about the "vicarious" and "race-based" trauma of watching videos of black death—and how in the last 15 years, studies have shown that the effects of racism have directly led to increased health problems among black people, including PTSD and other anxiety disorders.
Downs also spoke to April Reign regarding her Washington Post piece about declining to share videos of the deaths of Philando Castile and Alton Sterling. "It is a dehumanization of black people, and we don't see that with any other race," Reign said. "It's ingrained in us from our history. White people used to have picnics at hangings and at lynchings, bringing their children to watch black bodies suffer and die. We are not far removed from that, it's just being played out through technology now. And it hurts."
The images of Philando Castile dying in his own car while a cop trained his gun upon him and Diamond Reynolds captured the scene on her cell phone—not just as documentation but also as a precaution for the safety of her daughter and herself—was but one breaking point cited by several of the above pieces. Last week, another video emerged depicting cops arresting and pepper-spraying a 15-year-old girl in Maryland after she'd refused to go to the hospital after having a minor bike collision with a vehicle. The video, from police body-cam footage, is also terrifying; the girl is very clearly refusing to go to the hospital because she is scared, and she is "resisting arrest" because she didn't do anything to be arrested. Any adult with even the tiniest semblance of emotional intelligence would have been able to accurately assess the situation—and yet these white cops, grown and meaty men, wrested a tiny black girl from her bicycle and threw her to the ground and, after she was finally inside their squad car, blasted a chemical developed to disperse riots in her face.
All of these incidents illustrate how the state's supposed protectors devalue and disregard black citizens, but there is an important distinction between those and the video of Sterling. Until more information is released, the video of Terrence Sterling dying in real time is supposedly meant to illuminate but instead obscures, raising more questions than answers—including what the apparent purpose for authorities to release it now, two weeks after he died, might be.

---
"If you watch the video, one man I do think is doing a really solid effort to do CPR. But the other person? It looks like broadcast TV," says Jennifer Grygiel, an Assistant Professor of Communications at Newhouse/Syracuse University, who has been researching the way police departments use social media since 2009. "Literally, he's standing back and filming this. It's like, what are we prioritizing right now: C.Y.A.? Or are we going to save this man's life? I actually served as an EMT at one point in my life. I never had to deal with anything that intense, but I would have expected to see the partner there down on the ground, applying pressure, trying to aid this person in any way possible."

Grygiel studies the way police departments are creating what Grygiel terms "state-sponsored media," apart from the free press. Grygiel points out that on September 11, hours after Sterling was killed, the D.C. Police Department released a Facebook video featuring Assistant Police Chief Peter Newsham discussing the case in "an interview style" with an "interviewer" who was unidentified, but apparently filming specifically for the PD's Facebook page. The effect had the appearance of a media interview or press conference, even though the questions seemed skewed to the advantage of the PD, without the probing that would normally come from a reporter—which, perhaps, led to an inherent bias in the way Sterling has been depicted. "[Newsham's] description of [Sterling's] driving as 'erratic' just jumps off the page," Grygiel says. "It's just sitting there for the public to see, and then the press embeds that video but that description doesn't go away. They are controlling the dissemination of their media... [and] really starting to... [potentially] impact people's right to due process, and potentially tainting the jury pool."
We still don't know what made that DC police officer turn on his body camera after the actual shooting (though since Sterling was killed, area 911 operators have been asked to remind cops to do so when they call for emergency back-up). But again, the fact that he did so poses a question. As Susan Sontag wrote in Regarding the Torture of Others, her essay about the images from Abu Ghraib: "To live is to be photographed, to have a record of one's life, and therefore to go on with one's life oblivious, or claiming to be oblivious, to the camera's nonstop attentions. But to live is also to pose. To act is to share in the community of actions recorded as images."
And so, because they are traumatizing to look at but we cannot afford to be oblivious, what are we to do with these images?
When Mayor Bowser released this video Tuesday, Jezebel staffers had an internal debate about whether or not to publish it. Some argued for its general newsworthiness, saying that the fact that it shows police didn't turn on their body cameras until after they had shot Sterling was a story worth writing about. Others said that it provided no news whatsoever, as the part about the body cameras had already been reported, and that posting a video that solely depicted a black man in his final, brutal moments would be exploitative and unnecessarily traumatizing. We ultimately did not publish it.
What is the point of police departments practicing post-facto "transparency" without the legal action to correspond to it? In Terrence Sterling's case, like so many others, we'll have to wait and see. But it's hard not to think of what Serena Williams posted to her Facebook on Tuesday, after being stricken with terror at the notion that her nephew might be pulled over by police for being black and driving. "He's so innocent," she wrote. "So were all 'the others.'"
On Thursday, Sterling's family held a press conference with their attorneys—Jason Downs and Billy Murphy, who also represented the family of Freddie Gray. After Downs thanked "the community for the peaceful protests that have occurred so far" on behalf of the family, he focused on the future. "Peace is only possible," he said, "if this investigation is completely transparent."
Downs then mentioned another body cam video in the case, one that's unreleased, and "shows a police union representative arriving on the scene to protect Officer Trainer.
"The family and the community want to know, who did these officers call first? Did they call an ambulance to protect an innocent civilian, or did they call a police union representative to help Officer Trainer get his story straight? Did Officer Trainer's partner activate his body camera? What about the homeland security camera at 3rd and M Streets? Is there any satellite footage? Because we know that national security requires our nation's capitol to be fully protected at all times—especially on September the 11th."
"There is a near-certainty that there is high-resolution satellite footage protecting and surveilling Washington DC," Downs continued, "and the family wants to know whether that is going to be released in this case."