The women of Girls and friends commenced the Season 4 premiere party last night at Manhattan's Museum of Natural History, where they feted their fabulous lives in the best room in New York, the deep sea one with the giant whale. Who wouldn't want to party with the whale? While the events team deserves a high five, though, we'd like to have a word with some stylists.
The Girls black carpet was on the whole pretty casual, a no-pressure event fit for a television opening on a Monday (or, alternately, a super-fancy party at somebody's dump apartment in Greenpoint). I like writer/director Desiree Akhavan's look a lot because it seems totally intuitive to her personal style, and not fussy at all—she threw on a perfectly fitting pencil skirt, a bright swipe of lipstick, and kept it moving, chic and cool.
Community's Gillian Jacobs looks kinda the most trad red-carpety of most attendees, though she was still fairly casual—clean and polished, a teatime look. Janet Mock, too, is excellent at looking flawless and effortless at the same damn time, her simple black dress gussied up with a simple chain belt and LEG, hi, put her on the inspiration board with Angelina and J.Lo. Zosia Mamet, who in case you didn't know plays Shoshanna on HBO's Girls, has maybe never looked chicer (or shinier!) in a red leather Alexander McQueen frock. I wonder if local news outlets will look at this photo and invent a scandal about how she is flashing "gang signs." No really, though, what is going on with her hands? Maybe 13 years is the amount of time she's been waiting for this dress to come into her life.
There was not a lot of in-between, here, and to be honest, no one was egregious in their fashion offenses. It's just easier to not fuck up with semi-casual than with formal. Saturday Night Live's Cecily Strong found a form-fitting, '90s style dress that works for her (though it is a bit bandage-y), but ixnay on the footwear, her legs look like they're disappearing into a gelatinous pool of black ink. Fashion designer Erin Featherston emerged from hiding to show us that her personal style has not shifted one bit, in a frickin adorable schoolgirl look that is perfect for her because she is just so frickin adorable.
G/O Media may get a commission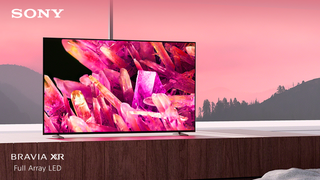 $400 off
Sony 55 Inch 4K Ultra HD TV X90K Series
Jemima Kirke chose a cool satiny black gown that matches her tats but the fit seems wrong. Whatever though, who cares about fit when you're STARTING A GOTH BAND! (Do not know if she is starting a goth band.) Alternately, Lena Dunham's Creatures of the Wind dress is perhaps the best-fitting thing she's ever worn for a public appearance, big ups to the Girl Lena for finding a flattering silhouette. Keep it moving for Awards season. Don't let Zac Posen do you dirty!
Okay but Nicky Hilton and Tracy Anderson, I just can't with these two. Nicky is dressed like a Christmas present I would return. Tracy, who is a celebrity fitness expert in case you did not know, is wearing SHINY SHEER PANTYHOSEughtkjk;adjklfkljdal;ksdf.
Today in red carpet PANTS! It's like a gradient swatch of business to party: Edie Falco is gonna be making some moves at this jam, maybe working out a high-powered real estate brokerage. Gaby Hoffman's business situation is with an art gallerist. Jenni Konner, Girls co-producer, just left work at the architecture firm and theoretically just removed her black Lanvin jacket to transition from office to party. And Rita Wilson is totally on some retired fuckit shit, dazzle 'em all day everyday nahmean.
Kirstie Alley attended with Jonathan Knight, of New Kids on the Block. They are apparently best friends, evidence of which is everywhere. Did not know! Totally appropriate to bring your BFF to a Girls party, though.
More appropriately, Abbi Jacobson and Ilana Glazer, of most important comedy on TV Broad City, coordinated their outfits AND WORE MATCHING FOOTWEAR, fulfilling many a woman's long-held aspiration of wearing the same outfit as her best friend into adulthood. They also look like they have been doing a little shopping at Opening Ceremony. TOGETHER.
It wouldn't be a friend party if Gayle King, one of the world's most famous BFFs, hadn't shown up despite an ankle injury. King's a big clogs person—for her recent 60th birthday, Oprah mandated that the guests wear clogs in her honor—and her utter natural embrace of them just make her seem cool and tuff and DGAF, three qualities many of us cherish in our best friendships. Gayle x Oprah foreva!
Images via Getty.