Sigourney and Jamie Lee wore the same dress (!) to the You Again premiere, but like the intergenerational-catfighting portrayed in the film, it's all make-believe! Kristen's uber-cute frock? Cloris's caftan? Not so much.
The teen fashion on display was kind of rad: it felt like the fashion show sequence from Don't Tell Mom The Babysitter's Dead.This is Bella Thorne.



And this is Zendaya Coleman!



G/O Media may get a commission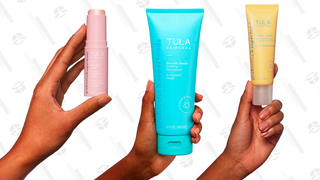 Kristen Bell goes vintagey, cheerful and kitschy-pretty.



Onscreen nemesis Odette Yustman also goes for a sunny palette...but hers is dramatic, goddessy, and stunning.



Actress Christine Lakin vamps it up in Studio 54-worthy sparkle-motion.



The somewhere-in-heaven-my-grandma-approves Award for Matching goes to Alexandra Ella.



Betty White was also in the running.



Laura Bell Bundy shows that Mrs. Roper-worthy florals are always a "Do."



Speaking of the Me Decade, Cloris Leachman takes the "exposed bra" trend to 70s highs (interpret that last word how you choose.)



Meagan Holder somehow pulls off what should look like a Giudice daughter's party dress. Maybe it's the sophisticated color?



The Dress.


[Images via Getty]