At the turn of the 21st century, writes Salon's Rebecca Traister, "Americans wanted to eat well, dress fine and live lavishly." And glossy magazines delivered. But with the economy in a downward spiral?
How can fashion magazines be fun and entertaining (and plug their high-end advertisers) without alienating broke or budget-sensitive readers? Awkwardly, Traister claims.
In Elle's February issue, editor in chief Roberta Myers argues that it wouldn't kill a "crazy smart" financial reporter she's seen on television to buy a decent blouse, and recommends "bargains" from Topshop, JC Penney and H&M. The same issue pushes patent leather open-toe shoe with black socks attached by Proenza Schouler for $1,815.
The January issue of Vogue features an essay by Lori Campbell, who used to be embarrassed by her mother's choice to live off the grid in Hawaii — she used to think it was "cheap and poor," but now that it's "green and fashionable," it's okay. And who can forget Glamour's January issue, which features "100 Perfect Outfits That Are Already In Your Closet."
Traister writes:

This is very practical advice. It is very sturdy. It is very sage. It is very depressing. As someone who kind of loathes shopping, I nonetheless am horrified by the idea. No one should shop in their own closet unless they are rich and their closet is huge, in which case, they can probably still afford to shop outside their closet anyway. For the rest of us, this is just a fancy way of saying, "Wear the same clothes you've been wearing for the past 10 years." I admire the sentiment, but it's precisely this kind of workmanlike thrift that could suck all the joy out of magazine reading.
G/O Media may get a commission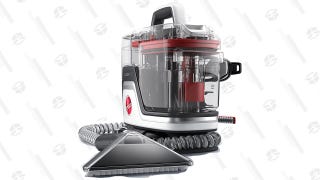 Save $10
Hoover CleanSlate Plus Carpet & Upholstery Cleaner
The question is: When it comes to editorial content, Is it better to pretend that the economic climate doesn't matter, and continue to present a glossy, luxe world to which the reader can escape? Or does it insult the reader's intelligence to promote $1,815 open-toed shoes?
Meanwhile, according to WWD, filmmaker R.J. Cutler's documentary about Vogue could serve as an unintended visual landmark of the "last hurrah of the luxury boom" when it screens at Sundance this weekend. The film, titled The September Issue, is the result of a year spent with Anna Wintour and the process that goes into making a single issue of the iconic magazine. Is this truly the end of an era? Wintour reportedly contemplates the end of her career in the doc, but Cutler says, "I have to let the film speak for itself on that."

In the clip above, director R.J. Culter discusses The September Issue.
"Shop in your own closet!", Meet The Filmmaker: R.J. Cutler [Salon]
Memo Pad [WWD]