In the morning, I use Alba Botanica lavender body wash for my shower soap and CeraVe on my face. I wash my hair with Aura Rosemary and Mint shampoo and condition it with Rusk Green Tea and Alfalfa, which we call "Farm Fantasy" in my house because it smells like someone's idea of a farm who's never been to a farm before. I get both from TJ Maxx, $10 for the super-jumbo bottles. Sometimes I use Matrix's purple shampoo because some of my hair is bleached, and sometimes I use Redken Body Full conditioner, which is a thousand times better than the Rusk but doesn't smell like Farm Fantasy. I wash my hair every three days. The first day is big and wavy, the second is lank and Taylor Hanson-like (also good), and the third is awful, but I try to embrace the Tim Riggins. Being tall means fewer people can see how greasy my hair really is, right? I'm unwilling to wash it more often.
After the shower, I have to put in my contacts before I have any gunk on my hands and I really hate this part because I can feel my skin angrily tightening as it dries without moisturizer. For my face, I mix some CeraVe moisturizer with this Seventh Generation prickly pear serum that a friend gave me for this horrible freezing weather. I think it really helps! I make a little cocktail in my palm.
Then my body: I keep my coconut oil in the tub, right over the drain, so it warms up while I'm in the shower. We live in Michigan and are miserly about the heat, so if I don't do this, I'd need a chisel to get any of it out. After a shower, the rim area has softened up (lololololol) enough to scoop some out and cover myself with it.
G/O Media may get a commission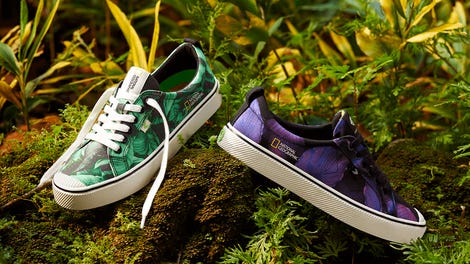 New New New
Cariuma + National Geographic
I like messy, wavy hair, and I get it in a truly idiot-proof way. I rub Wella Extra Volume mousse through the ends and then work up, and then I blow it totally dry, paying zero attention, no tools, zoned out. At this point it looks terrible. Then I twist it into three little buns, secured with two pins apiece. I blast the buns with hot hair for about ten seconds, and then I leave them alone to cool down while I do my makeup.
My daytime beauty icon is 1996 Taylor Hanson. Last summer, a beauty website gave me the idea to show my hair stylist some old pictures of Hanson to get my color like I wanted it. I loved my Hanson hair, and then I wanted my face to look like a Hanson too, but just 1996 Taylor. The components of this look are a warm complexion, flattish brows, peach eye area and peach-flushed cheeks, and an unexpectedly deep rosy lip color. I didn't listen to the band Hanson growing up, so this is all even weirder than it sounds.
I start with Tarte Amazonian Clay BB Moisturizer in light-medium (I am devoted to this product). In my palm, I mix a little It! Cosmetics concealer in a pale color and Make Up For Ever Full Cover in a deeper color. I've never gotten a concealer match right, and this way I can adjust the shade for the season. I dab that under my eyes (I used to really cover my under eye circles, but I'm over it and now settle for veiling them) and on any zits and rub it around my nostrils with my fingers. I fill in my brows a little with NYX brow powder and set them with NYX Control Freak, which is fine and cheap. I've used Maybelline Full 'n Soft mascara since I was in college, and I make a huge mess with it and then clean it up with a Q-tip dipped in moisturizer. But lately, I've been tired of the mascara look, and so in the daytime I use Lash Discovery, which has a tiny brush; better for the Hanson look. I've tried expensive mascaras, but I think what matters most is getting a fresh tube every couple months, so then it makes more sense to buy cheap.
1996 Taylor Hanson has this peachy, vaguely consumptive eye area—I love this look. I get it by swishing Urban Decay shadow in Freelove all over my eye area with a huge blush brush. Any attempt at precision will ruin the effect. Then I use that same shadow and brush for blush. I have so much lipstick, but for this look, I use either Burt's Bees Lip Shimmer in Rhubarb ($5) or YSL Rouge Volupte Shine in Rose In Tension ($1,000,000), which I bought for my wedding and hardly ever use because I don't want to waste it, which is dumb. Do other people do this? Anyway, I did wear it today.
I'm a woman of many perfumes, so that's another choice. Today I wore CB I Hate Perfume Soaked Earth, which is the smell of wet dirt, with Kat Burki's Lilac and Rosemary. Trying so hard to conjure spring, how sad.
Then I pull out the tiny buns and shake out my hair to create a halo of post-coital triumph. At this point, my hair looks too good—like, I would go to a party with it like this, but not to work or a coffee shop. But by the time I get wherever I'm going, it's settled down into really good regular-day hair. And there you have it: 1996 Taylor Hanson, but a thirty-year-old woman.
At bedtime, more CeraVe cleanser and moisturizer, but now with some Caudalie Divine Oil mixed in. I don't think this oil does anything, but the smell—it smells like something only Carmen Dell'Orefice would know about. I would like to drench my whole self in it every day, but I settle for a few drops mixed into drugstore stuff. Then whatever Sephora eye cream I have as a sample (Hope in a Jar right now) and Vaseline all over my mouth. I spray Lavender and Hops Pillow Potion over the bed before I get in it, and then I have to put lotion on my hands and feet after I'm in the bed — I can't go to sleep unless l do it. I'll just lie there, thinking about how dry my feet feel. If I did fall asleep, I would probably dream I was a raisin.
Rebecca Scherm is the author of Unbecoming, a novel. She tweets from @chezscherm.