Earlier this winter, I idly clicked over to an article about what to wear when it's freezing outside. The article promised tips for "if you've lost feeling in your fingers." In the accompanying video, a stylist lamented temperatures that make you "kinda want to die." To combat this feeling, she suggested the following:
wearing two light jackets on top of one another;
wearing two (two!) vests;
carrying a purse covered with shearling material to function "kind of like a muff or a mitt, but in an accessory."
She also suggested wearing skinny jeans under a sleeveless dress, and layering with short-sleeved sweaters.
I'm not sure who this cold-weather makeover guide was intended for – perhaps pre-teens whose social circles are going through a phase where they refuse to wear big puffy coats? Or someone trapped in a winter climate with only a summer wardrobe? Someone who hates mittens, leaving them reliant on fuzzy accessories against which they must press their hands pathetically?
As it happens, I have some experience with losing feeling in my fingers. Four years ago, I was diagnosed with Raynaud's – an autoimmune condition that affects as many as 28 million Americans. If you're a woman, you're nine times more likely to have it, and some estimate it affects as many as 20 percent of women of childbearing age.
G/O Media may get a commission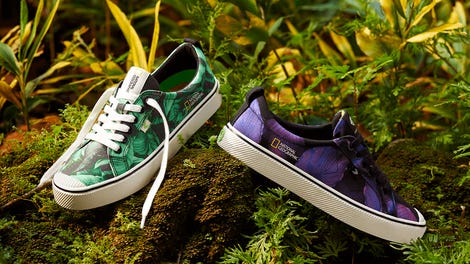 New New New
Cariuma + National Geographic
Basically, if it's under a certain temperature outside – for me, the cutoff is about 45 degrees – and you are not suitably dressed, your fingers or toes (or both!) will go numb. Like, totally numb and white. And they will not go back to normal until you get inside and warm.
For many people, it's not very serious. I remember seeing a doctor's office pamphlet that basically advised wearing gloves, and had a cute little cartoon of a woman with mittens holding a warm mug. Ha. For me, it requires a little more planning.
Luckily, my four years of trial and error have taught me a few lessons. So if you are someone for whom two vests is not going to cut it (aka a human being), here are my tips:
1. Wear real socks. I used to wear cotton ankle socks all year long. No more: I now have a large collection of wool socks, primarily REI merino wool socks. Smartwool socks are good too, but they cost a little more – which matters if you're stocking up.
2.Wear real boots. Oh my God, I can't even with you people who wear Toms in the winter. Without socks. HOW? For the rest of you, I know the Ugg trend has attracted a lot of haters (and is probably not even considered a trend now, or something), but sheepskin-lined boots are really warm. I would recommend the L.L. Bean brand, and your podiatrist would recommend getting inserts because those boots have zero support.
Important warning: Do not wear sheepskin boots in the rain or snow. They are not waterproof. They will be damaged. And do not try to get them dry-cleaned, for the same reason. Do you dry-clean your other shoes? Seriously, they'll be fine.
For rainy or snowy weather – or particularly cold weather (20s or below for me – yes, laugh all you want, Northerners, I don't care) – I wear these, the classic L.L Bean rain boots' more intense cousins.
(Related note: these sheepskin slippers are what you want indoors, while you avoid the outdoors.)
3. Wear real gloves. Cotton mittens are very cute, and very useless for me. I wear L.L. Bean fleece-lined gloves for the most part, and these ridiculous ski gloves when it's particularly cold out. The downside for the ski gloves is that I can barely move my fingers in them, and frequently accidentally turn on the windshield wipers or change the radio station from NPR to Latin music when I'm driving, but that's a small price to pay.
4. Wear silk glove- and sock-liners. This may seem excessive – but are you serious about being warm? Traditional layering will only get you so far – and when it comes to your extremities, there are only so many layers you can fit on them. Wearing two pairs of wool socks might cut off circulation to your toes, accomplishing nothing but having numb toes for a new and different reason. When my wool socks stopped being enough for me, I read some advice about silk sock-liners from a woman who had had frostbite and suffered continuing effects. I tried 50-percent-silk liners and they did nothing, but 80-percent did the trick! I use Terramar Thermasilk liners for both socks and gloves (the gloves are 100-percent!). They are ridiculously effective considering how thin and lightweight they are.
5. Wear a real coat. Even though my problem is in my hands and feet, my core temperature still makes a difference, and a serious coat helps. A central tragedy of my life is that I can never wear the pretty dress coats that my fashion icons Kate Middleton and Mindy Kaling live in for more than two weeks every year before it gets too cold and I have to pull out the puffer coat. Is wearing a pea coat more than twice a year really so much to ask? Apparently. Anyway, for the really, really cold days, I've started wearing this monstrosity – a long, down-filled, faux-fur-trimmed number with this silver lining stuff that makes you warmer ("Omni-Heat thermal reflective lining" is the technical term).
6. Fleece! Fleece is amazing. I knew this, but I did not know about fleece-lined tights until recently. I highly recommend them.
If you want to take it to the next level: go for fleece leggings. Decent ones are hard to find, but I am a big fan of the oddly named IWearSin.com – they make adorable, really warm leggings, and they give leggings away to children in need in Vietnam! You can get a pair in basic black, or enjoy some reindeer or snowflakes. The website seems to recommend wearing them with one of their baggy, one-size-fits-all sweaters, but I would never recommend leggings as pants, no matter how fleecy. Just throw a skirt over top, it won't kill you. And you will be super warm – even the most polar vortexy of winds feels like a light breeze when wearing these.
7. When all else fails – hand and toe warmers. Sometimes you need a little help from science. And I'm grateful for whatever science makes these HotHands hand warmers stay hot – not just warm, but hot – for up to 12 hours. Seriously, you can throw them in your purse and forget about them for hours and they'll still be just as hot. It's a little unnerving. The toe warmers last a long time too, but only if you keep wearing them inside your shoes throughout that period, which might be a bit much if you just want them for your morning and evening commutes (but might be great if your office is freezing!).
I also tried battery-powered inserts and socks – they worked okay, but the batteries are heavy and annoying and tend to run out of juice quickly, so they're hardly reliable if you're not sure how long you have to be outside.
Virginia Pasley is a writer in Arlington, Va.