Today we have multiple best comments.
• Best Comment Of The Day in response to Male Model Walks Chanel Runway With His Young Son; World Swoons:
America's Next Tot Model
• Best Comment Of The Day in response to The Real Plan For James O'Keefe's Sex Boat:
There once was an ass in douche-glasses,
His idea of 'humor' was classless,
"Get over it," said that bloke,
"It was just a good joke!
You're all just lesbian shitasses."
• Best Comment Of The Day in response to Kenyan Polygamist Dies, Leaving Behind 100 Widows:
The minute this news story hit the wire, TLC programming executives began booking their flights to Kenya.
• Best Comment Of The Day in response to 50 Cent & Chelsea Handler Are Dating:
I can see it now:

50cent twitter: ain't nobody gonna talk sh*t bout me and Chelsea. yal know I still loves you hoes. Lol. stop f**king wid solja

English 50cent: Please do not speak ill of me and Chelsea. You know I still love gardening tools. *laughs* Leave Solja alone.
G/O Media may get a commission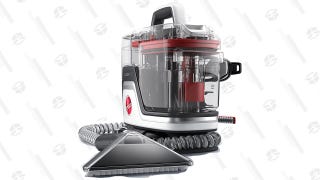 Save $10
Hoover CleanSlate Plus Carpet & Upholstery Cleaner
• Best Comment Of The Day in response to Ex-Footballer Blames The Victim — Via Twitter — In Alleged Assault:
Peter let me try and help you with something here. Consider it free advice from one bloke to another.

A woman can go home with you to have a cup of milo, or to watch your home-made compilation of highlights from the '92 World Cup. She might even, at one point, consent to bumping uglies with you. And then, while in the bathroom, she changes her mind. And she tells you she does. Guess what that means? It's over. No sex. Sex past that point is rape.

Rape is non-negotiable. There is no "kind of" rape. There is simply rape.

Thank you.
• Best Comment Of The Day in response to :


Reminder: Rather than emailing us your daily comment nominations, we'd like you to submit them in the tips box at the top of the page. So send us your nominations via that box — complete with the outstanding comment's URL — and tag your nomination #cotd. (Replying to a comment with "#cotd" does not work.) From here on out, we'll mine through the brilliance via the Comment of the Day tag page.
Use #trollpatrol to report comments that you feel the editors/mods should be aware of. Try not to respond to/approve/promote trollish comments in the threads — instead, just post the comment on the #trollpatrol page, the same way you'd post a comment on #groupthink or on the #cotd page, and the editors/mods will take care of it.
For meetups, use the meetup tag page!
Oh! My God! I Miss You" />