Looking for today's best comments? Your search is over.
• Best Comment Of The Day in response to Kings Of Leon Turn Down Glee: "They're like, Use Somebody else."
• Best Comment Of The Day in response to Noted Feminist Sarah Palin Offers Support To Noted Racist Dr. Laura:
The ballad of Sarah and Laura

Writing on the page of my Twitter
Trying to use my right to free speech
Those liberals in heat hope Dr Laura retreats
But our reloaded guns are still within reach

Christ you know it ain't easy
You know how that cackle can be
But the way things are going
Those rads will crucify me.
• Best Comment Of The Day in response to Kat Von D Tweets — Then Deletes — That She's Dating Jesse James:
Before we jump to conclusions, let's consider the fact that Kat Von D's Tweet may have been incomplete. Perhaps she meant it to say "Yes, Jesse and I are dating the artifacts using Carbon-14 counts."

or

"Yes, Jesse and I are dating ourselves by continually referencing Wayne's World."

or maybe

"Yes, Jesse and I are dating these cookies. Is that what you say when you put dates in? LOL."
• Best Comment Of The Day in response to U.S. Chamber Of Commerce: Equal Pay Advocates Have A "Fetish For Money":
Dear Mr. Boudreaux,

After reviewing your resume, Dinosaurs and Nachos, Inc. has decided to offer you a position of 1st Level Douchebag starting immediately.

I regret to inform you, however, that we will not be able to pay you the $100,000 salary that was referenced in our want ad. Instead, we are prepared to offer you a starting salary of $80,000.

We are sure that you will understand our position. As a man, you must understand that your potential to spend all day at the gym really restricts the amount of work we think that you might actually perform for us.

We realize of course that you may actually be one of those people who thinks he can perform up to the standards of the 1st Level Douchebag position and your references certainly are exemplary. However, we cannot dismiss the fact that we are pretty sure you will spend all day thinking about your pornos at home and taking off early to go pick them up.

As such, we cannot even risk offering you the same salary as you would earn as a 1st Level Lesbian Shitass. Although the positions appear fundamentally the same and you will perform the same work, there are some differences, mainly the fact that a man cannot perform the work of a Lesbian Shitass.

We know that you will understand our position as you do not appear to be an individual with a "money fetish." We will expect to see you early Monday.

Sincerely,

Dinosaurs and Nachos, Inc.

P.S. Don't forget to wear something cute...
• And presented for your enjoyment:
G/O Media may get a commission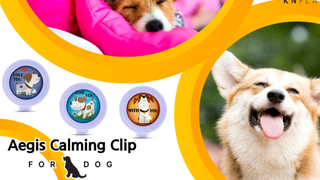 20% off
Aegis Calming Clip for Dogs


Reminder: Rather than emailing us your daily comment nominations, we'd like you to submit them in the tips box at the top of the page. So send us your nominations via that box — complete with the outstanding comment's URL — and tag your nomination #cotd. (Replying to a comment with "#cotd" does not work.) From here on out, we'll mine through the brilliance via the Comment of the Day tag page.
EXCITING NEW FEATURE: We've set up a #trollpatrol page where you can report comments that you feel the editors/mods should be aware of. Try not to respond to/approve/promote trollish comments in the threads — instead, just post the comment on the #trollpatrol page, the same way you'd post a comment on #groupthink or on the #cotd page, and the editors/mods will take care of it.
For meetups, use the meetup tag page!
Oh! My God! I Miss You" />