Today's best comments fill us with pride.
• Best Comment Of The Day in response to National Coming Out Day Brings Courage And Sorrow:
Being out feels fabulous, and I couldn't go back into hiding if I tried. I do have a message for any young'uns out there who may be reading Jez: Yes, coming out is liberating and good for all of us, queer and not. But you don't owe me or anyone else anything. Come out when you feel safe and ready. If you get outed by someone else before that happens, first of all, I am so sorry, and I hope you can be safe. Second, seek support from a trusted adult or by phone or online with a reputable organization like the Trevor Project. When you do decide to come out, I hope it's with fireworks, press releases, and pinatas, but it's your life and your timing. I can't wait to welcome you to the club-on your terms.
• Best Comment Of The Day, also in response to National Coming Out Day Brings Courage And Sorrow:
I'm straight. But if you come out to me, I will welcome and accept you for who you are. I will go to the mat for your right to be who you are. I will reject beliefs and tenets grounded in hate and I will challenge those who preach them. And I will teach any children I have or whose lives I am part of that not everyone is like them, that human difference is normal and healthy, and that hating a person for the way they are born is always wrong.
• Best Comment Of The Day in response to "The Plight Of Middle-Aged Women":
This is a major issue here in the U.S. as we have children later in life (which means that as we age we are still caring for them), and those children come back to live at home for several years post-college while at the same time we care for our parents...

The only solution I can think of is what some would term a socialist one - government sponsored childcare and eldercare so that women can pursue careers unencumbered with the restrictions of these other obligations - b/c with these retrictions, yes, I can see how a woman is "worth less" to a company - if she insists on leaving at 3, or cannot travel, etc. - and this stymies all women because it breeds the assumption that women are going to drop out of the workforce at least partially for family reasons.

Why women and not men? Because this self-fulfilling prophecy leads to women being worth less, they are paid less - and if you and your husband have to choose who is going to slash their salary in half to stay at home and chauffeur parents/kids around, wouldn't it be the smaller salary?

(Yes, I clearly feel strongly on the issue!) More wage gap stats/info at [TheLifeForward.com]
G/O Media may get a commission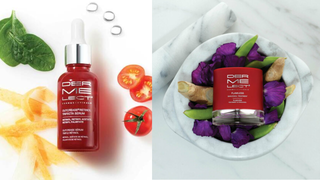 Save $19
Retinol Renewal Kit
• Best Comment Of The Day in response to Fifth Stieg Larsson Book Exists, Won't Be Released:
You can read about all the details of this situation in my new upcoming mystery novel, The Girl with the Next "The Girl With the Dragon Tattoo" Book
• Best Comment Of The Day in response to Eminem: I Was Singled Out As A Misogynist Because I'm White:
I'm Slim Shady,
I hate all the ladies,
If you ask, I'll blame it all on
white player hatin',
So won't the real Slim Shady please shut up?
Please Shut up.
No, rly. Please shut up.
• Best Comment Of The Day in response to Ashton & Demi Escape Cheating Rumors By Jetting To Israel:
i don't know that ira glass actually cries. i think he writes musing segues that introduce the concept of crying, before turning it over to david sedaris, who cries for him.


Reminder: Rather than emailing us your daily comment nominations, we'd like you to submit them in the tips box at the top of the page. So send us your nominations via that box — complete with the outstanding comment's URL — and tag your nomination #cotd. (Replying to a comment with "#cotd" does not work.) From here on out, we'll mine through the brilliance via the Comment of the Day tag page.
Use #trollpatrol to report comments that you feel the editors/mods should be aware of. Try not to respond to/approve/promote trollish comments in the threads — instead, just post the comment on the #trollpatrol page, the same way you'd post a comment on #groupthink or on the #cotd page, and the editors/mods will take care of it.
For meetups, use the meetup tag page!
Oh! My God! I Miss You" />