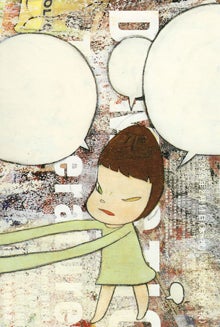 Cheer up! We've got today's best comments.
• Best Comment Of The Day in response to Taylor Momsen Is The Charles Barley Of Our Time:
Apparently she chose, instead, to become a role model for the young, disaffected raccoon population. Well done, Taylor, well done.
• Best Comment Of The Day in response to Project Runway: "An Unbelievably Tight Race For Hideous":


• Best Comment Of The Day in response to Alicia Silverstone Is Having A Bad Day:
That's way harsh, Keanu.
That's way harsher, Silverstone.


Reminder: Rather than emailing us your daily comment nominations, we'd like you to submit them in the tips box at the top of the page. So send us your nominations via that box — complete with the outstanding comment's URL — and tag your nomination #cotd. (Replying to a comment with "#cotd" does not work.) From here on out, we'll mine through the brilliance via the Comment of the Day tag page.
Use #trollpatrol to report comments that you feel the editors/mods should be aware of. Try not to respond to/approve/promote trollish comments in the threads — instead, just post the comment on the #trollpatrol page, the same way you'd post a comment on #groupthink or on the #cotd page, and the editors/mods will take care of it.
For meetups, use the meetup tag page!
Oh! My God! I Miss You" />