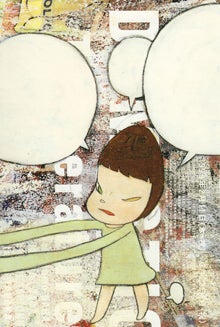 The best and worst comments of the day:
Best Comment Of The Day, in response to Heidi And Spencer Get Engaged…Again: "The Hills has taught me so many valuable lessons about love. Relationships aren't about day to day life but BIG moments like engagements, weddings, break ups, and dramatic club standoffs. It's not really love if there's not a climax to every 30 minutes of programming." We say: You forgot staring at each other worldessly while eating salad/drinking coffee, as Natasha Bedingfield sings in the background. • Worst Comment Of The Day, in response to Utterly Un-Heroic Cheerleaders Overrun Upfront: "Aging cheerleaders are right up there with Clowns as nightmare material for me. Tone it down a notch, alright? Fuck." We say: Friend, you're the one who needs to "tone it down." • Worst Comment Of The Day, in response to Heidi And Spencer Get Engaged…Again: "...why are you guys still writing about them? srsly. In the words of Lisa Simpson, 'Just don't look.'" You say: "Take your own advice, much?"


Actually, there were so many bad comments today, they could not all be listed here. Here are some (paraphrased) examples:
Picture of squirrels:
"Squee nom nom!"
Post on cosmetics for African-American women:
"Yes, but I'm really really pale and white and I can't find cosmetics either, what about me?!?!
Beautiful picture of two Bedouin girls:
"Why is Jezebel posting anti-Israel images?"
Post on the Hills:
"Why are you guys still covering this show? I don't watch it"
As reminder, these are the commenting rules:
Characteristics of a good comment:
• Insight/additional information
• Intelligent critique
• Wit/humor
• Calm, courteous, reasoned disagreement, either with the opinions/facts presented in a post itself or with other commenters
• Sharing of relevant, personal anecdote (within reason)
Characteristics of a bad comment:
• Personal attacks on other commenters or Jezebel editors
• Deliberate provocation/trollishness
• Vulgarity
• Self-promotion (including blogpimping)
• Banality
• Creating/contributing to an echo chamber: ("So cute!" or "I hate...")
• Whining/Complaining: ("I don't want to read about this, can't we see pictures of puppies?")
•Irrelevance: "I don't know who this person is" or "First!"


Please cut it out.






Oh! My God! I Miss You" />