On Monday afternoon, Republican presidential candidate and noted privacy advocate Rand Paul announced that he would be live-streaming "an entire day" of campaigning on Tuesday, up through the Democratic debate (burn!). Jezebel managing editor Erin Gloria Ryan thought it would be funny to make me watch it.
I got very carsick.
9:30 AM
We begin the day with Rand & crew in the car on the way to St. Ambrose University in Iowa. Here, they kick off their new day-long tradition of "jammin' out" to a spectacularly awful selection of dad music.
For some, this was exciting news.
G/O Media may get a commission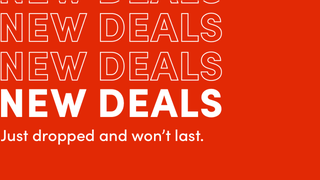 Up to 70% off
Wayfair - Cyber Week Deals
"This is how we roll," says Rand proudly, as the first notes of "Mercy" by Duffy begin to play.

Which is a pretty magical coincidence, because when faced with the prospect of being trapped in a car with a delusional ophthalmologist all day, I, too, would like to beg for mercy (why won't you release me / please / release me).
9:50 AM
We reconvene for Rand's first interview of the day, in which he stretches into a languorous seated power pose and answers questions from a bald man in a suit who 100% has his back.
"I know the numbers aren't going your way right NOW," huffs his interviewer and #1 fan, before agreeing wholeheartedly with Rand's optimistic prediction that he will "sneak up on people." Then they talk about socialism.
"Are we gonna have free cars, free shoes, free iPods?" asks Rand incredulously.
10:00 AM
And now we're at St. Ambrose University, talking to libertarian UFC fighter Pat Miletich, who I initially wrote down as "red-faced man." This is the first moment in the livestream when we can really get a close-up look at Rand's blue vest, which he will wear all day.
This is also the first of many times Rand will complain about an airline, which he won't mention by name because he's being polite, that "really screwed me around."
10:30 AM
Rand is about to give a speech to this very small audience. While introducing him, his aide references "one particular airline, which we won't mention" that "had three delays yesterday."
In his speech, Rand discusses diversity. "I think the Republican party needs to become more diverse, we need to look like the rest of America," he begins, encouragingly. Then: "With tattoos, without tattoos; with earrings, without earrings; with ponytails, without ponytails."
Yes! Forget racial and ethnic minorities—it is truly about time the Republican party started to look more like the cast of Sons of Anarchy.
After this, Rand explains his severely skewed take on socialism for the 100th time this morning (it means "you guys are too stupid to make your own decisions"), and takes some questions, which clearly were not vetted beforehand. One elderly man wonders if it's "a good idea for U.S. representatives to have dual-citizenship," because who knows where their loyalty might lie?!?!?
Rand responds: "To tell you the truth, I haven't thought about it."
10:50-11:20 AM
We will see a lot of this screen today! In fact, the #RandLive enterprise is more this screen than anything else. To be clear, this is absolutely okay with me.
11:20 AM
And we're back in the car. Some idiot didn't put on a seatbelt, and the alarm is going off. Rand's aide asks him questions from his Twitter hashtag feed. "Rand, what would you ask at the debate tonight?"
"Hillary, where in the hell did you put those emails?" Rand answers.
Rand and his team are extremely fucking determined to show the politician "jamming across Iowa," but unfortunately the livestream keeps cutting out. When the feed returns, his aide helpfully narrates: "We're driving through the cornfields of Iowa and we're gonna be jamming to some good tunes."
After much buildup, they start to play a song, which (awkward!) doesn't come on right away because it's a live version and the musician is talking. Rand gets annoyed and asks his aide to turn it up; his aide responds that he will turn it up when the music actually STARTS, and then the live-stream cuts out.
In between technological glitches, D.J. Rand Paul really turns it up with tracks from Metallica, KT Tunstall, and Jet. His female staffer, for some reason, draws the line at Linda Rondstadt, whom she finds "really embarrassing." The group talks politics a bit, referring to Bernie Sanders as "Uncle Bernie" and making fun of tonight's Democratic debate re: how boring it will be, which is funny because I am literally watching a frizzy-haired man ride in a car.
12:20 PM
Rand is interviewed by a reporter from the L.A. Times. He suggests she write a story about how the polls are skewed against him.
12:37 PM
Here, I am able to confirm that Rand's vest is cotton, and that it is indeed a mock-turtleneck.
12:45 PM
In his speech at Loras College, Rand shares some relatively not-insane strategies concerning foreign policy and criminal justice reform, the latter which most liberals would agree with. However, his less millennial-friendly ideas about abortion, same-sex marriage, climate change, and gun control were not mentioned.
"If you want to go back into Iraq, you'll always have a Bush or a Clinton," he jokes, for the 3rd time today.
1:15 PM
Here's Rand, grimacing with a fan.
2:05 PM
After nearly an hour of empty screen, we're back, visiting the large clearing where Kevin Costner watched a bunch of ghosts play baseball. Five minutes later, they're gone, and I am once again alone with my thoughts.
2:30 PM
We're back in the car, where Rand answers some more questions from Twitter. "Do you see any big difference between Hillary and Bernie?" one person asks.
"Well, I think they see the same hairstylist!" Rand answers, in as jovial a tone as he can muster. In response to another question, Rand proclaims that he would "undo all of President Obama's executive orders on day 1."
Rand promptly forgets this when asked, immediately afterwards: "What would your first day in the White House look like?"
"I'd want to play my music really loud…we'd have to bring the bowling alley back…get on the lawnmower, get some of the grass cut," he answers.
At this point, I am informed that I no longer have to watch this live-stream, which is a good thing, because I don't have any dramamine and my eyes are starting to bleed. But I have learned a lot over the past 6 hours—about hair, about vests, about how often you can repeat the same joke and still get a laugh out of it.
Now please, if you would, join me in praying to whatever power moves you that no political candidate will ever do anything like this again.
---
Contact the author at ellie@jezebel.com.
Image via screengrab / Animation by Bobby Finger.