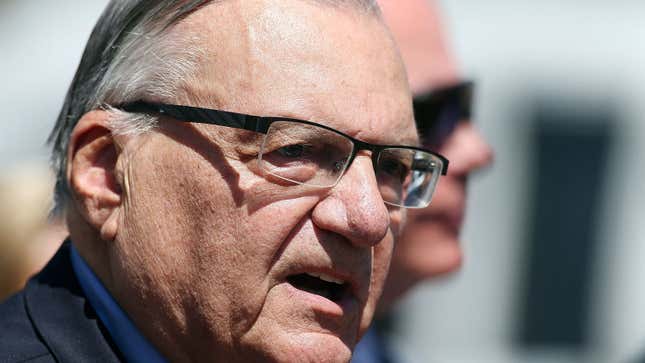 Joe Arpaio—the former Maricopa County sheriff whose 24-year tenure was defined by virulent racial profiling, resurrecting chain gangs, and generally running his department like an old-timey vigilante squad shooting Colt .45s into the constitution—would like his old job back.
The Guardian reports that Arpaio announced Sunday that he will run for reelection in August. If Arpaio secures the Republican nomination, he'll go head to head once more with Sheriff Paul Penzone, the Democrat who beat him in 2016 shortly after the Justice Department levied charges against Arpaio for criminal contempt of court, related to immigration patrols that he refused to cease. (After losing in 2016, Arpaio tried to engage then-Attorney General Jeff Sessions in an attempt to see if somehow the Obama administration had something to do with it, an absurd request from a very small man that went nowhere.) A little refresher from the Guardian:

In office, Arpaio branded himself as "America's Toughest Sheriff", overseeing roundups of suspected undocumented migrants, bringing back chain gangs, erecting tent cities to house prisoners and forcing inmates to wear pink.

A federal judge cited him for criminal contempt in 2017, ruling that he defied a 2011 court order barring his deputies from detaining Latinos solely on the suspicion that they were in the country illegally.
To further refresh your memory, the reason Arpaio, 87, is allowed to announce another bid for sheriff despite practicing a slew of baldly racist horrors is because Donald Trump pardoned him on August 25, 2017, exactly two years before Arpaio announced his latest candidacy. Arpaio also ran for Arizona Senate in 2018 and was thoroughly trounced by his fellow Republicans (Kyrsten Sinema, boot queen, ended up winning the seat). But while Arpaio's reelection may theoretically seem like a long shot given his recent track record—not to mention that his willful contempt cost Arizona taxpayers around $72 million—the draconian, hateful practices he enforced while he was sheriff increasingly mirror the direction in which Trump is taking the nation. The language in Arpaio's announcement, while not much different from his standard stump speech, is increasingly familiar in Trump's rhetoric, too—advocacy for border protection and making "Maricopa County Safe Again," all underscored with the decomposing-body stench of white supremacy. Just another day in paradise, baby.