"Gone native" is the title of the latest Zoe Report missive. Indigenous peoples, this is your moment!
In 2008, American Apparel produced a printed clothing line titled "Afrika." Oscar de la Renta's Spring 2008 collection included geometric prints and raffia hats. Also in 2008: Elle featured "tribal-inspired" diamond jewelry meant to look like African masks. (The jewelry was made by De Beers, the company founded by Cecil Rhodes, the guy with the scholarship named after him who was sort of a white supremacist; De Beers has been accused of mistreating workers and fixing diamond prices.). In addition, Galliano showed "fertility idol" shoes — with heels that looked like African sculptures — that year.
But "Africa" is out now. "Native American" is in. (And cultural appropriation never goes out of style, apparently.)
Of course, indigenous peoples are not booties, skinny jeans or logo bags. They can't be fashionable or unfashionable. But if some people think certain cultural artifacts are cool this season, then they must be.
G/O Media may get a commission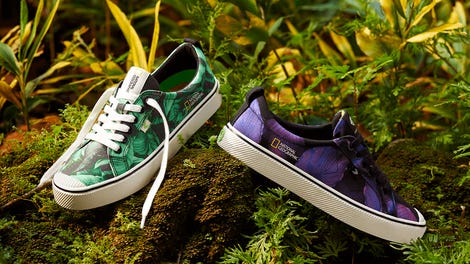 New New New
Cariuma + National Geographic
We've seen feathers and facepaint in Paris Vogue and in Teen Vogue. Victoria's Secret featured a "tribal" beach cover-up. Urban Outfitters is selling a hideous Navajo-esque Slanket-like thing. Now Rachel Zoe (or someone who works for her) writes:
As my newest outerwear crush, I am blown away by each one of [Lindsey] Thornburg's ethnic-inspired cloaks. They are a brilliant interpretation of the current tribal trend.
"Ethnic" is such a catch-all, but what she and other people who use it this way mean is: Not white. (Did you know that the first dictionary definition of ethnic is "heathen"?)
But the point is this: Navajo blankets were woven to be used and traded by people who were routinely massacred. Modern Navajo rugs are quite pricey, but you're getting a handmade craft whose sale most likely contributes to the economy of the Navajo Nation, where the unemployment level fluctuates between an overall 40 and 45 percent and in some communities is high as 85 percent. (According to the American Indian College Fund, census data shows that 25.9% of all American Indians and Alaska Natives are living below the poverty line; the national poverty rate is only 12.4%. The poverty line for a family of 4 is $22,050, meaning if you're a family of 4 living on $25,000 — you're doing great.)
Anyway. No disrespect to young designer Lindsey Thornberg, but the price for one of her "ethnic" cloaks is $950. You could get an actual Navajo blanket woven recently for less than $500, or a blanket woven in 1890 for $975. Up to you.
Gone Native [The Zoe Report]
Earlier: What's The Difference Between Inspiration & Insult?
Related: Slow Hand: Native American Dresses, Forever21, Kilts, And The Recession
LOLVogue: Duz Dis Make Me Luk Lyke A Sex Kittin?
Analyzing The Absurdist Art In The New Teen Vogue
Related, sorta: Why I Would Never Buy A Jeep Cherokee by D-Knowledge [YouTube]
National Coalition On Racism In Sports And Media [AIM]