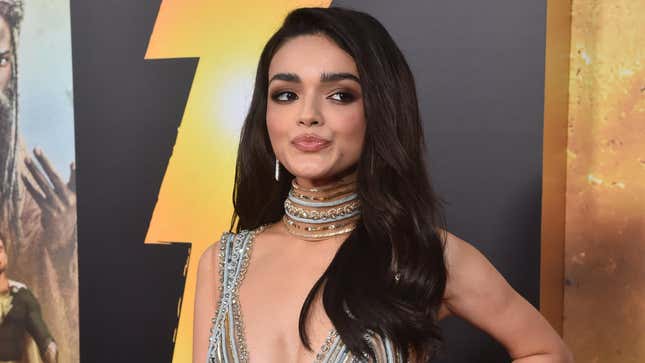 Rachel Zegler will portray Snow White in the upcoming live-action remake of the classic animated movie, and as a bi-racial Latina, her performance of a Disney princess known for being the "fairest of them all" has predictably pissed off conservatives. But viral TikToks of resurfaced quotes from Zegler about her Snow White remake have surprisingly managed to piss off everyone else, too, ranging from adult Disney purists to the general public, who are accusing Zegler of misunderstanding feminism and being "ungrateful" for her role.

The offending comments are apparently sourced from Zegler telling ExtraTV about a year ago, "The original cartoon came out in 1937, and very evidently so. There's a big focus on her love story with a guy who literally stalks her. Weird! Weird! So we didn't do that this time."
"We have a different approach to what I'm sure a lot of people will assume is a love story just because we cast a guy in the movie. All of Andrew's scenes could get cut, who knows? It's Hollywood, baby," she continued, talking about her Prince Charming co-star Andrew Burnap. The new version of Snow White reminds of Halle Bailey's The Little Mermaid, which sees Ariel save Prince Eric from Ursula this time, rather than the other way around.
In another interview from last year, Zegler says her Snow White is "not going to be saved by the prince, and she's not going to be dreaming about true love; she's going to be dreaming about becoming the leader she knows she can be and that her late father told her that she could be if she was fearless, fair, brave and true." In Zegler's remake, "the fairest of them all" will mean the most just and be unrelated to skin color or appearances.
To be certain, the 1937 Snow White is as "dated" as you'd expect a movie from its time would be. A very pale woman needs to be saved by true love's kiss from a man who chased her around the woods a few days ago—that's not gonna be a woke movie no matter how you tweak it. So it's unclear to me how making Snow White into a modern-day girlboss will be particularly beneficial to anyone 100 years later, when we could all probably just come up with new stories to tell instead of trying to amend the old ones to fit modern sensibilities.
But returning to the latest controversy in which Zegler—a respectable fire-starter who's unafraid to speak her mind online and has stared down the internet's ire before—now finds herself ensconced, Disney adults are fairly annoyed at how she's talking about one of their favorite fairytales. Some are especially peeved that Zegler has vocalized that she wasn't a fan of the original Snow White at all growing up and only watched it for the first time in years just before auditioning for the part. How disrespectful, when she should have been rewatching it every other weekend like the rest of us!!!
Then there's a whole other corner of the internet that believes Zegler's appraisal of what could make Snow White a feminist heroine amounts to reductive "pseudo-feminism." In particular, they take issue with Zegler's insinuations that her Snow White is empowering because instead of falling in love, she goes into politics and leads nations. Falling in love, to their point, isn't at odds with feminism! As Slate notes, some TikTokers are even invoking a scene from Little Women in which Meg March says, "Just because my dreams are different than yours doesn't mean they're unimportant."
It's a fair critique, but… is it really a necessary one?? Frankly I have questions for anyone taking a 22-year-old actor's promotional appraisals of their upcoming Disney movie this deathly seriously. While I'm doubtful that Zegler's Snow White will be the revolutionary fare she seemed to promise in her newly resurfaced interviews last year, it seems likely enough that it will be a fun and uplifting spin on a classic. What more could you possibly ask for—or expect, really—from a remake of a Disney princess classic?