In a new GQ interview that is not least remarkable for the way it's written, R. Kelly agreed to speak with author Chris Heath about everything, "without restrictions"—the sexual abuse, the statutory rape trial, his alleged marriage to Aaliyah. They address it all, but only to the extent that R. Kelly is willing to speak about those things—which, once you read it, is really not so much at all.
"R. Kelly's Confessions" touts itself as one of the first times in recent history Kelly has been willing to speak directly on a range of topics, including his alleged systemic sexual predation on underage girls, which is mostly true; in New York's recent feature on Kelly, for instance, hard questions posed to Kelly like "Do you have a sexual attraction to underage girls?" were met with, as writer David Marchese put it, "almost bored[om]." In New York, Kelly sounds decidedly flippant and defers to his lawyers. In GQ, he is decidedly less flippant but still defers to his lawyers. Regarding the video shown in court of a young woman being urinated on by a man who looks like R. Kelly:

Sure. But let me ask a simple question: Is that you in that video?

[pause] Because of my lawyers, to this day I cannot have those kind of conversations. Being advised by my lawyers in this.
In this interview Kelly avoids every question about the 2008 trial by deferring to his lawyers, and he avoids questions about his 1994 marriage to Aaliyah by deferring to his "respect" for her family and her memory. Then there's this, which sounds even more disingenuous:
"Yes. I would say I loved 'liyah."

But "in love"?

"Well, there's a lot of ways to be in love with a person. I was in love with my grandfather, you know. But yeah, I would say I was in love with Aaliyah just like I was in love with anybody else. But in a different, friend type of way."
G/O Media may get a commission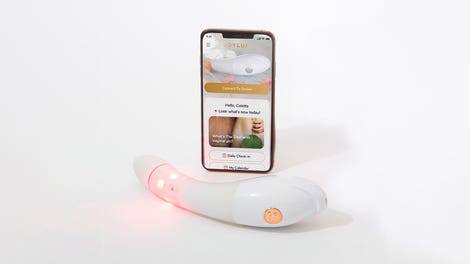 $50 Off
Joylux vFit Gold Device
But the most fascinating and disturbing piece of the interview, aside from R. Kelly's dogged belief that all of his fans believe he is innocent, concerns R. Kelly's past history of being sexual abused (he says he was molested by a family member beginning at age eight) and his belief that sexual abuse is a learned behavior passed down from generation to generation:
People are going to think: Well, if that passes down, why didn't it pass down to you?

"Well, you know, just like poverty—poverty was a generational curse in my family, too, but I decided that I'm gonna stop that curse. I'm not gonna be broke, like my mom was broke, my uncles were broke, my sisters didn't have money, my cousins on down. Generational curse doesn't mean that the curse can't be broken. Just like having no father, that's a generational curse. Which is why, when my kids were born, I was Bill Cosby in the house. You know, the good one. You know, let's be clear there: how we saw Bill Cosby when we were coming up."

So what did you have to do to break a generational curse? To make that not be you?

"Well, it's really not about breaking it. There's things that you don't want to do that you're not gonna do. It was just as simple as that. I want to be able to be a father to my kids, where I've never seen my father, but my kids can see me whenever they want, so that was broken.[He and his wife Andrea divorced in 2009, and in practice, for reasons he suggests are beyond his control, he rarely sees his three children.] The poverty part was broken. And I feel the child-molestation part, that definitely was broken.
There's a lot more here—in addition to some no-shit revelations that Kelly maybe believes Bill Cosby is innocent—including a satisfying ending about Kelly's memory (or non-memory) of his mother's death that puts in stark contrast everything that's come before in the piece. Kelly casts aspersions on the accounts of his and Cosby's accusers, but his own accounts are equally inconsistent.
While it's exhausting (at best) to read interview after interview with Kelly that, on a certain level, promotes his brand even despite the context, it's also important to keep digging. Whether that will ever result in another trial—where it really matters—is another story.
---
Contact the author at julianne@jezebel.com.
Image via AP