As mentioned briefly last night, Judith Krug, the founder of Banned Book Week and champion of the First Amendment, died Saturday in Evanston, Illinois. She was 69.
Krug was born in Pittsburgh and graduated from the University of Pittsburgh with a degree in political science. She in received her masters degree in library science from the University of Chicago and worked at the John Crerar Library in Hyde Park and at Northwestern University before starting with the American Library Association. In 1967, she became the first director of the American Library Association's newly-formed Office for Intellectual Freedom, and in 1982 she founded Banned Books Week to promote the right to read without censorship. "For more than four decades Judith Krug inspired librarians and educated government officials and others about everyone's inviolable right to read. Her leadership in defense of the First Amendment was always principled and unwavering. Judith's courage, intelligence, humor and passion will be much missed - but her spirit will inspire us always," said Jim Rettig, ALA president, and Keith Michael Fiels, ALA executive director, in a press release from the ALA's website.
Throughout her career, Krug fought for the freedom to read, even though many of the books she worked to keep on the shelves were not to her taste. A true supporter of free speech, Krug refused to allow conservative groups dictate what can and cannot be read. Trevor Jensen for the Chicago Tribute reports that in 1992, Madonna's erotic coffee table book Sex led to an outcry from those who found it too racy for libraries. Krug felt that libraries should be able to carry any printed material that was legal, and she told the Chicago Times, "the book is sleazy trash, but it should be in every medium-sized library in the United States."
Krug recently claimed that the significance of her work was made clear to her when she read the children's book, And Tango Makes Three, to her granddaughter's class. And Tango Makes Three is a picture book based on the true story of two male penguins from New York's Central Park Zoo,who successfully raised a healthy young chick together. According to the ALA, Tango was the most challenged book of 2006-2007. After she was finished reading to the class, one girl stood up and began clapping. Krug later learned that the enthusiastic student was being raised by two women.
Each year, the ALA puts out a list of America's most frequently challenged library books. Krug took comfort in the perennial appearance of classic works like Catcher in the Rye and Of Mice and Men. "That means that censors, real and would-be, are not making the headway they think they are," she said. "Books that matter are still in libraries."
G/O Media may get a commission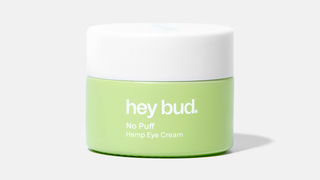 15% off
Hey Bud - No Puff Hemp Eye Cream
Krug believed that the role of the librarian was to bring people and information together, as she explained in a talk in 2002. In her editorial on Krug's life, Dorothy Samuels from the New York Times quotes Krug:
"We do this by making sure libraries have information and ideas across the spectrum of social and political thought, so people can choose what they want to read or view or listen to. Some users find materials in their local library collection to be untrue, offensive, harmful or even dangerous. But libraries serve the information needs of all of the people in the community - not just the loudest, not just the most powerful, not even just the majority. Libraries serve everyone."
Krug worked bravely throughout her life for the realization of this democratic ideal. In December 1980, she observed that complaints about the content of books in public libraries had increased fivefold in the month since Ronald Reagan was elected president. In 1982, Krug started Banned Book Week to promote those books that the "Moral Majority" wanted to see go up in flames. More recently, Krug was a leader in the fight against internet censorship. Krug also was an outspoken opponent of the USA Patriot Act, which included a provision that allows federal investigators access to library records.
Krug's passion for free speech began at a rather young age, as the New York Time's Douglas Martin reports. Krug credited her parents as the inspiration for her life's work. She remembers reading a sex-education book under the covers when she was 12, only to be caught by her mother. "She said, 'For God's sake, turn on your bedroom light so you don't hurt your eyes.' And that was that," Krug said.
Judith Krug, Who Fought Ban On Books, Dies at 69 [NY Times]
Judith Krug [NY Times]
Judith F. Krug, 1940-2009: Librarian Started Banned Books Week [Chicago Tribune]
Judith Krug, Librarian, Tireless Advocate For First Amendment Rights, Dies [ALA]
[Image via Jim Rittig's Flickr]