Leading up to her starring role in the Annie remake this December, Quvenzhané Wallis is featured on the cover of The New York Times Style Magazine's holiday issue and based on the interview, she's still a major little boss.
The 11-year-old Wallis—whose Oscar nomination for Beasts of The Southern Wild made her a star—has a way of being adorably irritable. Not surprisingly, in this NYT Style article titled "There's Something About Quvenzhané Wallis," she pretty much runs the show. Writer Nicholas Haramis is on a mission to get details about her role in Annie, but all Wallis wants to do is fun stuff. Because REPORTERS ARE BORING:
Like most sixth graders, Wallis could swerve and spin and twirl around to a soundtrack of Pharrell and Justin Bieber all day long with only occasional pit stops to fuel up on orange soda. Unlike most sixth graders, she has to slow down every now and again to answer questions from a breathless journalist about how it feels to be the youngest Oscar nominee ever. "I'm not gonna name names," she says, "but sometimes when reporters are talking it gets a little boring because I don't have any jokes to tell because the questions are so serious."
When asked about her inspiration, she seems notably over it:
Inquiries into inspiration and motivation elicit eye rolls. At one point, while discussing the director and co-stars of her new film, "Annie" — Will Gluck is a "really nice man," Jamie Foxx is "a really nice guy" and Cameron Diaz is "really nice" — she lets out an exasperated yawn. Then she gets up in her pink Nike hightops and sparkly pink top (her favorite colors are turquoise and pink). "Why doesn't a bike stand up on its own?" she asks.
G/O Media may get a commission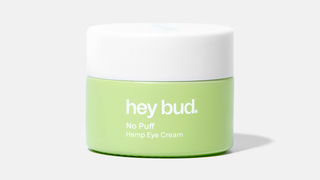 15% off
Hey Bud - No Puff Hemp Eye Cream
Sounds like an 11-year-old who wants to do 11-year-old things, i.e. play games:
Right now, all Wallis cares about is finding the two tokens she needs to play a new round of Hoop Fever, which she's infuriatingly good at (basketball, she says, is also a favorite). When I swear under my breath after losing yet another game, she holds out her hand. "You owe me a dollar," she says. Her mother, Qulyndreia, adds, laughing, "She made a killing on the 'Annie' set."
This is why interviewing kids is usually a marathon effort. The story, which also features quotes from Wallis' Annie co-star Cameron Diaz and director Will Gluck, ends with her requesting that the interviewer wrap it up, B:
I try to get a few more details about what it's like to balance homework and Hollywood fame. "How about three more questions?" she says. "Make them big so I can answer them big." Her pursed lips and unwavering stare are both an invitation and a challenge. Has she ever, um, broken any bones? "No," she says incredulously. "I'm scared to but I also kind of want to." What's her favorite way to introduce herself to people? "Hi, people call me Quvenzhané. But you can call me tonight." I rack my brain for another, but I'm too slow. "We're done now," she says.
Images via The New York Times