Something I learned at BIGBANG's concert this weekend in Newark, New Jersey—something I've never learned from anyone else over the past 20 or so years of seeing large-scale concerts—is that to execute a successful arena show, a good idea is to play every single song like it's your last song.
It helps, of course, if you are the biggest boy band in South Korea and, quantifiably, the entire world; if you possess the physical energy to execute both pristine choreography and your own improvised, gymnastic endurance; and if you are equipped with an arsenal of fireworks and confetti timed to blast off every third or so song. It helps if you have a crew of 12 back-up dancers. But this quintet of very cute, very lovable, and very personally distinct fashionistos let every single rise to a volcanic peak, building intensity with as much flash and bang they could muster, belting out every lyric and hitting every rap with precision, all while allowing the tumultuous libidos of 20,000 screaming women and girls to boil over with subtle suggestion. (Nothing beyond a PG rating, but very expertly delivered nonetheless—they go a long way by being extremely attractive and proffering the occasional pelvic thrust.)
In 2012, my friend and colleague David Bevan traveled to Seoul to profile the way K-pop stars are made. In his great piece, he spoke with DFSB Kollective's Bernie Cho, who concisely summarized K-pop's explosion thusly:
"Twenty years ago, this place was pretty third-world and Tokyo was like Blade Runner," he says of Seoul's development. "Now it's the other way around. Koreans didn't invent cars. Koreans didn't invent mobile phones. Koreans didn't invent flat-screen TVs. But they've somehow tweaked and twisted the formulas to the point that they feel fresh."
G/O Media may get a commission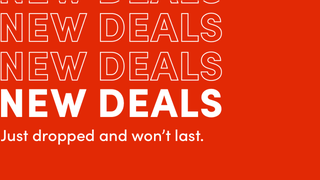 Up to 70% off
Wayfair - Cyber Week Deals
I thought of this quote as BIGBANG ran through older jams like "Haru Haru," but mostly focused on newer songs like "Good Boy" and "Bang Bang Bang"—all of which mine Western-born genres like rap and EDM, but flip them into leaner, slimmer, cleaner, shinier versions, besting US musicians at their own game and reaping the hormone-wild benefits. In May, BIGBANG began releasing work from their third album, MADE, a series of tracks corresponding to each letter in the word; it was their first work as a group after three years, a time frame which included solo material from each artist. (Particularly great that night was "Good Boy," by my faves G-Dragon and Taeyang.) And, as if to throw us a bone but also show his appreciation for US culture, Taeyang shouted out Shake Shack, which the crowd loved. (I am hungry.)
It's hard to fathom, even now, the precision with which they delivered the show, and how theatrically everything was put forth, gold confetti blasting into the air at one turn, pools of fog rolling in and lapping at their feat by the next. It was the true definition of a spectacular, because they designed every bit to be dazzling eye-candy (I mean, who has 12 back-up dancers?), something that was driven home about 3/4 of the way through when T.O.P emerged in an allover Mondrian-print suit holding the kind of cane evil septuagenarian villains use in cinematic capers, to drop his wildstyle manifesto "Doom Dada."
According to kpoplyrics.net, the English translation to a part just before the track drops for T.O.P. to growl out the words "mass media," goes like this:
You are all on fire

God God God God

A shower that washes your eardrums

The unstoppable and hot souls

Let's dance on the wide floor over there

The unstoppable and hot souls
These are, clearly, the greatest lyrics ever written. In the States, there's often an issue with non-English language music having trouble crossing over to English-speaking audiences, an issue that may be one of the more vexing issues in my life as a Latina music critic. (Nothing's so frustrating than, say, seeing inarguably huge Latino artists like Romeo Santos be marginalized in mainstream music outlets because entire mastheads are largely comprised of white fuckboys.)

Though K-Pop still doesn't get the shine it might deserve, it's has less of a problem breaking through in the US, and not just with fans who speak Korean or have some cultural ties there; BIGBANG's lyrics don't necessarily have to translate for non-Korean speakers to absorb the band's core essence, which is universal: singing and rapping flawlessly, hitting every note (mostly, but functionally, does it matter when a boy band doesn't?), and playing off cuteness in a way that all boy bands have since time immemorial. Did I mention these dudes are so cute? They're so fucking cute. I have been to multiple boy band concerts and written extensively on the issue; I can rightly tell you that in my advanced age I have never seen a group nail being a boy band the way BIGBANG did, playing up each member's individual strengths and personalities but also flawless when it came time to come together as a unit, whether on a Michael Jackson-inspired spin or a dramatic R&B harmony.
But as a wise woman once said, even the most brilliant shit's gotta come to an end. There was a sense that this tour, which kicked off the US leg of their world tour, could be the end; not only because the boys have to take some time off to serve some mandatory time in the military, but that they've weathered trouble before. All of their solo stars burn so bright, it seems as good a time as any for a split—just speculating here—but if the group splinters, their magic can only spread. This...
...is not something that can ever be tamped down.
---
Contact the author at julianne@jezebel.com.

Images via BIGBANG/Biz3 Publicity.