Marielle Heller's The Diary of a Teenage Girl (based on on Phoebe Gloeckner's graphic novel of the same name) is a lot of things: It's vulgar, it's sexual, it's occasionally hard to watch, but above all else, it's one of the best films of the year.
Set in 1970s San Francisco, The Diary of a Teenage Girl tells the story of Minnie Goetze (Bel Powley), a 15-year-old in the midst of her creative and sexual awakening. The film, with its general frankness about teen girl horniness and explicit displays of sex, will push past many viewers' comfort zones as it explores Minnie's life (uniquely and exclusively) through her own narrative. Her audio diary, stored on a collection of cassette tapes that she hides under her bed, serves as narration for the story, beginning on the day that she enthusiastically loses her virginity to her mother's 35-year-old boyfriend, Monroe (Alexander Skarsgård), and continues over the course of several months as her life simultaneously—and paradoxically—unravels and evolves.
While a teen girl beginning an affair with her mother's older lover is hardly an uncommon narrative in fiction, it rarely, if ever, is it dealt with as honestly and thoughtfully as it is in Teenage Girl. Minnie is painted as neither victim nor vixen and while Monroe's predatory actions are never condoned, they're certainly not the movie's focus.
It's a credit to Skarsgård's talent (and the transformative power of the 1970s porn 'stache) that a man as handsome as Monroe is, through the course of the film, reduced to a pathetic and abject sleaze, but to narrow in on Monroe's development—or even his sex crimes—would be a mistake. The Diary of a Teenage Girl is—as the title suggests—a story about Minnie.
Bel Powley excels in the lead role, portraying Minnie with the perfect mix of curiosity, innocence, wit, and sensitivity. She portrays Minnie as eager-yet-perceptive and naive-yet-bright as she soaks up the world around her, with a story that's probably beyond the realm of most peoples' teen experiences: Her mother (played wonderfully by Kristen Wiig) is a shit-show with the best of intentions who snorts rails off the family coffee table, goes on rants about sexism and Patty Hearst, and playfully encourages her 15-year-old to dress sexier while recognizing that she's not being "very feminist" in doing so. In a matter of months, Minnie has more sex than some of us will have in years and does more drugs than most of us will do in a lifetime. She's obsessed with cartoonist Aline Kominsky, doodles monster vaginas in her notebook, and—in homage to Gloeckner's graphic novel—imagines vibrant and trippy illustrations sprouting in the world around her.
G/O Media may get a commission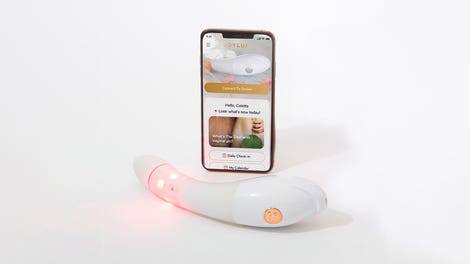 $50 Off
Joylux vFit Gold Device
But while Minnie's situation is a little wild, her emotional journey is intensely relatable. "I wonder if anyone loves me that I don't know about," she tells her tape recorder, pondering the boys at her high school and echoing a thought that nearly every teen girl (at least all the ones that I've met) has had. She faces rejection, experiences loneliness, questions her sexuality, judges herself too harshly. She lives a vast life beyond her sexual exploration (although her desire to be touched—the teenage curse—is always simmering beneath the surface). She loses herself in drawing, dresses up for the Rocky Horror Picture Show, and jumps on her bed while screaming about Iggy Pop with her best friend Kimmie. (Minnie and Kimmie, it should be noted, have one of those perfect teenage girl friendships that's so fraught, close, and intimate that it tests the limits of love.)
The Diary of a Teenage Girl brings to mind several films of the past (2002's The Dangerous Lives of Altar Boys and 2009's Fish Tank to name a couple), but it sets itself completely apart. The movie is introspective but rarely bleak, funny but never flippant. Most exciting of all, however, is the way Marielle Heller (and Phoebe Gloeckner) has endowed Minnie with a power and quality that young female protagonists are typically denied: Minnie—fantastically—is allowed to have agency. Nothing could be more refreshing.
The Diary of a Teenage Girl opens in theaters on Friday, August 7.
---
Contact the author at madeleine@jezebel.com.

Images via The Diary of a Teenage Girl/Sony Pictures.