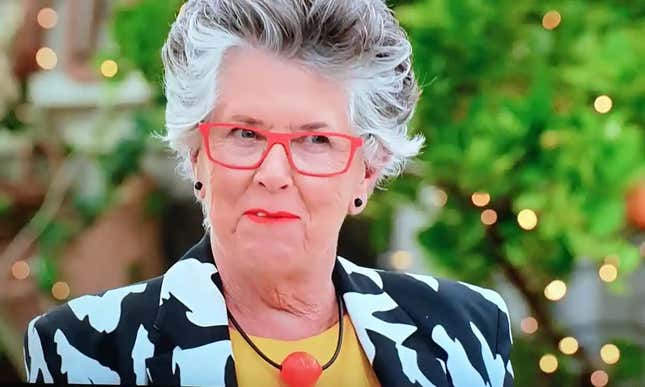 The Brits are up in arms about a risqué fashion choice made by one of their most colorful octogenarians, Prue Leith. On an episode that aired Sunday evening, The Great British Bakeoff host wore one of her signature bold outfits: a black and white, quasi-zebra print blazer, tomato red glasses, a sunshine yellow blouse, and a necklace that, should she be so inclined, could double as a ball gag.
Prue Leith on Geriatric Love: 'It Was Exactly Like Being 17 Again'
The Daily Mail called the accessory "rude." The Guardian questioned whether Leith knew she was wearing a "suggestive" necklace. But the beloved cooking show's beloved host is a fashion risk-taker, so she must know the inherent perils of sartorial gambling—and I, personally, choose to believe that not only was Leith fully aware of her ball gag of a necklace, she did not care one ounce, erhm, millileter.
Leith has been candid about geriatric love and sex. Her husband died in 2002, and since then, she has spoken about rediscovering romance in her widowhood (and in her later years). "It was exactly like being 17 again," she told Jezebel in an interview last year. But you know what 17-year-olds are probably not utilizing that sex-savvy geriatrics, after all their years of experimenting, are? Fun sex toys. I of course don't know what Leith brings into the bedroom with her but if it's what she's brought into the kitchen last night, then more power to her.
In our interview in November, Leith also recounted how her funky personal style helped her get back on the proverbial horse. Her now-husband was dismayed when she showed up to their first date in subdued, neutral tones, in an attempt to avoid weirding him out. The first thing he said was, "What are you wearing? The reason I asked you out is you looked so great in that orange jersey."
To those outraged by my baking queen's accessory choices, let me just say: If you can't handle the heat, then stay out of the tent that houses a kitchen where Prue Leith may or may not be repurposing sex toys as statement necklaces.