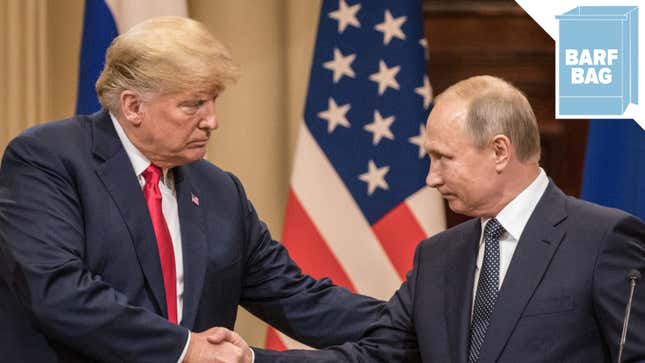 Why do I beliiiiiiiiiiiiiiieve?
Here's all the shit we couldn't cover today:
After news broke on Wednesday night that an unnamed "official in the U.S. intelligence community" was so alarmed by Trump's behavior with an unnamed foreign leader—Trump allegedly made some sort of "promise" to the leader—that they filed a formal whistleblower complaint, House Democrats are raising a ruckus. On Thursday, after Acting Director of National Intelligence Joseph Maguire continued to refuse to turn over the complaint to Congress, apparently at the urging of both the White House and the Justice Department, its chair Adam Schiff threatened legal action. As for which foreign leader Trump talked with, the Times notes that he spoke with Vladimir Putin, as well as Pakistan's prime minister Imran Khan, and Mark Rutte, the prime minister of the Netherlands, in the weeks prior to the filing of the complaint. Rutte, what did the president promise you??? [Washington Post/New York Times/CNN/Politico]

Donald Trump now wants the EPA to fine the city of San Francisco... because used needles are flowing into the ocean? "We haven't had any (recent) problems with syringes," said a spokesperson with the city's public utilities commission. [San Francisco Chronicle]

This is incredibly fucked up—Border Patrol agents are now conducting credible fear interviews with asylum seekers, instead of asylum officers. [Los Angeles Times]
Anti-Semitic members of the alt-right are now using Telegram to compile an online list of Jewish people who have called out white nationalism, which includes activists and journalists. In a sign of how utterly disgusting this group is, even 4chan kicked them off its platform earlier this summer. [Mother Jones]
This is some weird news. [Associated Press]
This is some cool news! [LitHub]
Canadian prime minister Justin Trudeau reeeally loves donning blackface and brownface:
Here are some tweets the president was allowed to publish:
This has been Barf Bag.