Dig out your blue eyeshadow, your body glitter and your Aqua Net, because it's time for PROM WEEK on Pictorial.
How could we conclude our prom coverage without revisiting the years around the turn of the millennium, the liminal period encompassing She's All That and 10 Things I Hate About You, both from 1999? And so we turn to the March 2002 issue of Teen magazine. Cover girl: Pink.
Now, the editor's letter is careful to note that the issue you're holding in your hands isn't quite as prom-heavy as it might've been: "Mid-month, we ditched the prom theme because it was excoriating (look it up) our buns. The issue could have been a shopper's dedication to prom and have pretty pictures throughout—but it's not, so it doesn't." Hence the big interview with Pink and the feature urging you to "Bond with your butt."
But it's a March issue of a teen magazine, so it's not like they could avoid prom entirely. There are the obligatory prom horror stories, as well as dueling first-person narratives from a boy who dumped a bucket of water on his sister right before she left for prom and from the irate sister. There are also brief quotes from celebs—Mila Kunis, Katherine Heigl, and Lisa Kudrow, among others—about their own experiences.
G/O Media may get a commission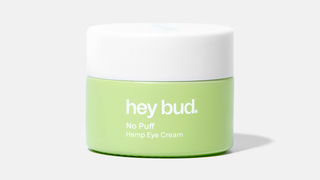 15% off
Hey Bud - No Puff Hemp Eye Cream
Then of course there are all the ad pages dedicated to the main event. Sally Beauty chimed in with some advertorial beauty advice from "TV expert" Kristi Fuhrmann, "key makeup for MTV." She suggested:

Go glam or girly with your makeup, depending on your mood. Pale lips, smudgy eyes and sheer pink cheeks bring to mind heroines of the Victorian age (and bring out the best in your current hottie). Real Colors Cream to Powder Eyeshadow in pearly pastel shades teams with Savvy Blushtouch for cheeks and Rush lipstick in a shimmery pale shade to create the most romantic of girl looks.

On the other side of style, the glamour of deep red lips played against pale skin charges up the night for you and your crush. (Think Nicole Kidman in Moulin Rouge!)
So... consumptive?
Yes, it was a boom time for frosted eyeshadows.
All the better to match your prom dress in faintly frosty shades!
Unless you decided to go a bit... bolder.
Indeed, this was a big year for slip dresses in pastels and corals.

Just don't forget to order your customized "Prom 2002" garters!