The challenge on last night's episode was to design a garment "inspired" by the elements: Earth, air, fire, water. Unfortunately, no one levitated or got a Connie Francis-themed jukebox, like in The Craft.

Anthony's element was fire. He chose ashy gray and black fabric, which worried Tim Gunn. But Anthony explained he was "trying to think outside the box," and that fire reminded him of the time someone burned down his pastor's house (!!!), so, really, charred remains were his inspiration.

Anthony: "In case anyone didn't know… Black: Not only is it beautiful, it's officially presidential."

Amy's element was also fire, but for some reason she was trying to create a torch or flame with the model's hair as the burning part. This meant lots of extensions. Inside of her garment. Anthony said it best: "She needs a Nair affair up there."


The judges HATED Amy's hair affair. "It looks like a cat in a baby sling," Heidi Klum sneered. Michael Kors said, "She looks she's a barmaid, serving her hair." Nina Garcia found it "weird" and said, coldly, "I'm not impressed."


Ben's element was water, and he claimed he was inspired by the Great White shark. Michael Kors called his suit — which had teeth and some kind of dorsal fin — "ill-fitting." Heidi Klum said: "If you don't know how to make a suit, don't make a suit." And: "It's bizarre."
G/O Media may get a commission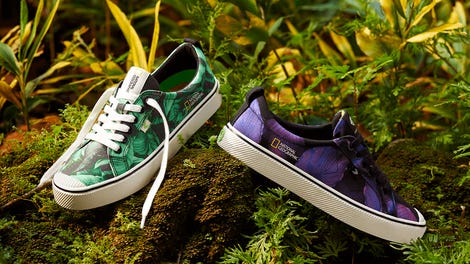 New New New
Cariuma + National Geographic
Highlights and lowlights from the runway:


Emilio's element was earth, and his green frock was maybe a little predictable, but nice. He was safe.
Jay Nicolas made a tornado-inspired thing for "air," and it was weird, but he had immunity, so he was also safe.
Anthony's charred remains gown was gorgeous, and he was also safe.
Minerals and metals inspired Mila's ensemble — she had earth — but the judges found it "super boring" and appropriate for a "walk around the mall," instead of a walk down a fashion runway.
Maya was thinking of sirens in a rippled lake or ocean, and the judges thought she "made all the right choices," but accused her of being inspired by other designers. Uh-oh.
Seth Aaron's outfit was supposed to be like the air at night in New York, so it was tough and dark and edgy, with some swirling elements. Guest judge Roland Mouret was impressed by the pants, and said, "Some big designer would be jealous of those trousers."
Jonathan, who was inspired by the air that comes from laughter — as well as his model's skin tones — was the winner of the challenge. His dress had layers of sheer fabric cut out over layers of opaque fabric and was fluid and gorgeous. Stunning. Loved it!
Amy's hair scare was declared "weird" and the judges accused her of "trying too hard." You've got to try hard, it's Project Runway!
Ben's shark ensemble drowned. Auf Wiedersehen!
By the by, the Marie Claire with Heidi Klum wearing Anthony's dress on the cover has hit stands!
I love how the editors added interest to the neckline with some blingy brooches. Even if Anthony doesn't win, he'll have had some major exposure, thanks to this cover and story, and I could see Heidi asking him to design something for her again. If not, well, there's always Miss Universe.
[Runway images via MyLifetime.com]