OMG! Couture! And ready-to-wear inspired by couture! Let's jump right into the highlights and lowlights from the runway.
Christopher's lacy couture look was pretty dreamy, even if he did have to glue some pieces instead of embroidering them, due to time.
His RTW dress was ready for the rack. He was safe.
G/O Media may get a commission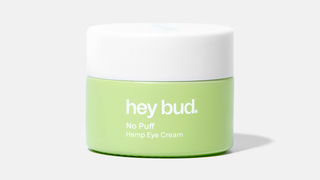 15% off
Hey Bud - No Puff Hemp Eye Cream
April almost always does frothy black, but somehow she makes it work. Are short-shorts couture?

April's RTW is actually something I'd wear to a party. She was safe.
But no miniature pony!
On to the top three…
Gretchen's velvet feathered flapper robe looked better from the back, and Michael Kors said that for a high fashion look, it was very wearable. Except he made it sound like an insult. Heidi Klum liked it, but she wanted to turn it around.
Gretchen's RTW look was nice if you like muted colors which I do not. The judges loved how the slits on the sides showed skin when the model walked, a feature which seemed to be a surprise to Gretchen when she saw the dress go down the runway.
Andy. Wow. Given that every contestant had the same amount of time and money, Andy's really looks like he had about a week, and some intergalactic help. Guest judge Naeem Khan and Nina Garcia loved the boot pants, but Heidi didn't like any of it. Still, Andy was in the top 3!
As for Andy's RTW look, Michael Kors called it "chic and sleek." It was also totally wearable.
But really, it was all about Mondo! He was inspired by a kaleidoscope. Heidi loved the hat. Michael Kors thought the gown was too short, but was clearly enamored, saying it looked like a Kentucky Derby horse ribbon exploded, in a good way. Nina Garcia thought the black fabric was a little cheap-looking, but it didn't matter: Mondo was the winner! He got $20,000 and a L'Oreal Paris advertorial shoot.
Go Mondo!!!
Now for the bottom three — or as the judges called them, Gone With The Wind, My Fair Lady and The Little Mermaid…
Michael Costello's dress had a cuckoo cray cray train and the dress had wire in the hem.
Michael knew he was in trouble when he saw the way Nina looked at his dress as it came down the catwalk. Michael Kors asked if he'd used "all the curtains from Tara."
Michael C.'s ready to wear dress was quite nice, however. Even though Heidi — of all people — thought it was too short.
Nina Garcia said Valerie's dress looked "Miss Guatemala." Valerie replied that actually, her family was from Guatemala, and Nina said: "No offense." AWKWARD.
Valerie's lop-sided RTW dress with off-center buttons made everyone question her taste. She'd spent time crying in the bathroom over these dresses not looking how she'd intended, so she didn't argue with them.
Ivy's ocean-inspired dress was fug.
And she made two!
Choosing between Ivy and Valerie for "worst" made the judges groan and make faces. Michael Kors was the one who called it "an unbelievably tight race for hideous." In the end, Ivy was the one to go home.
Valerie was all, shit. That should have been me. She even said to Ivy: "I wish I could go home for you." But she didn't.
Anyway, who cares? Mondo won!