Over the weekend, dueling protest events kicked off near the Maryland offices of LeRoy Carhart, the doctor anti-abortion nutjobs have been obsessing over since Dr. George Tiller was murdered. About 180 pro-choice advocates came out to support Dr. Carhart, but the anti-abortion crowd managed to make a more dramatic statement, thanks to their ridiculous antics and willingness to simply make shit up.
Dr. Carhart, who is one of the few doctors who perform late-term abortions, wasn't at the event outside of his offices yesterday, which launched the Summer Celebration of Choice, but his name, along with that of his friend Dr. Tiller, was mentioned frequently, according to The Washington Post. The same was true of the 9-day-counter event Summer of Mercy 2.0, which is a repeat of a protest outside Dr. Tiller's clinic nearly 20 years ago.
The clinic will be shut down all week so patients don't have to fight their way through a wall of praying protesters. One woman who says she saw Dr. Carhart became the star of anti-abortion protest when a video about her was played on Saturday night. In the clip she says she visited the Germantown clinic when she was six months pregnant, but was talked out of an abortion by a protester named Grace and went on to have a baby girl last week. From the Post:
"I just thank God that I had a healthy daughter," the woman said in the video, holding week-old Kayden.

In a telephone interview, the woman identified herself only by her first name, Keisha, and said she is 21.
Keisha, who also has an 11-month-old daughter, said she couldn't get an abortion in Philadelphia when she was nearly six months pregnant with Kayden.

"I was too far along to get one in Philly," she said. She called Carhart's office in Germantown, she said, and "they said they'd do it."

"I am against abortions now," she said.
In other words, she now wants to impose the choice she made on other women in a difficult situation. Or she would if she was real. In a phone interview, Carhart told the paper the woman was a plant sent by the anti-choice protesters. She called the office about 15 times and staff doubted her story, but said they were still willing to see her.
G/O Media may get a commission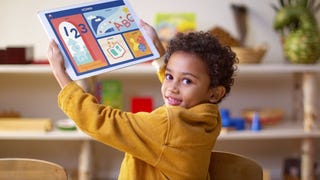 30-Day Free Trial
Homer Learn & Grow Program
After the controversy over Keisha, the next night's activities were even weirder:
Later they held a rally in a Gaithersburg church, during which two women - one 18 weeks pregnant and one 23 weeks pregnant - received ultrasound exams that were projected on a 20-by-20-foot screen, said the Rev. Patrick Mahoney, director of the Christian Defense Coalition.
There's nothing like a bit of ultrasound theater to cap off a day of hatemongering.
Abortion Is Topic Of Dueling Protests In Md. [Washington Post]
Earlier: Abortion Provider's Life: Tight Security, The Threat Of Violence