Conjugal visits between prisoners and their significant others could be ending permanently in Mississippi, where the practice began. It's not clear whether one state's decision will create a national trend but it's obvious that the inmates' families will suffer more than they already do. Also, why would anyone want to rehabilitate prisoners by retaining their ties to the outside world? That's crazy talk!
In states like New York, 8,000 conjugals, or family visits, were scheduled in 2013, but that number is dwindling, writes the New York Times. The visits, which can last from an hour to three days, were introduced at Parchman, a Mississippi State Penitentiary, during the time of Jim Crow segregation as a way to control the incarcerated, most of whom were African-American.
In the early 1900s, prison officials felt black men had "stronger sexual urges than whites and that allowing black prisoners to have sex from time to time would make them work harder during the week." In exchange for good behavior, men were awarded an hour or so with their spouse or a prostitute in a private room especially built on jail grounds. As time went on and prison officials realized that people need sex, 17 states allowed conjugal visits and full buildings were constructed for families, including parents and children, to spend time with their incarcerated loved one, doing mundane things like barbecue. Qualifying requirements for prisoners vary from state to state, but all must have good behavioral records and be legally married. Those on death row, in maximum security or Federal prison cannot participate.
In California and New York, they are ... designed to help keep families together in an environment that approximates home. Some research shows that they can help prisoners better integrate back into the mainstream after their release. …

Studies cited by Yale law students in a 2012 review of family visitation programs showed that the programs could work as powerful incentives for good behavior, help reduce sexual activity among prisoners and help strengthen families.
But prison commissioner Christopher B. Epps and Mississippi State Representative Richard Bennett don't like the idea of prisoners not being punished 24-7. Epps announced that he'd be cutting the conjugal program on February 1, despite protests from inmate activist groups and inmate spouses alike. One group is planning a rally this week against Epps' decision. Elsewhere Bennett says he's bothered by the children created behind bars, because that inmate's baby will become the tax payers' responsibility, obviously. We've all seen how it goes down on Orange is the New Black or even in real life, right?
"I don't think it's fair to the children conceived and to the taxpayers," he said. "You are in prison for a reason. You are in there to pay your debt, and conjugal visits should not be part of the deal."
G/O Media may get a commission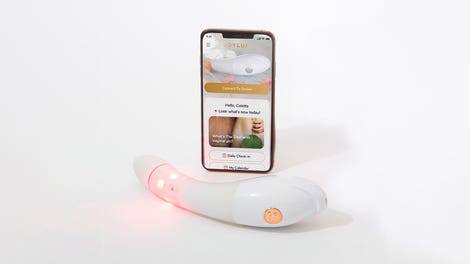 $50 Off
Joylux vFit Gold Device
However, ending family visits also punishes the spouses, girlfriends, boyfriends and children with the bad luck of being related to a convict. Why do I say that? Well, going to visit someone in jail sucks. From my personal experience with the California correctional system — don't ask — even as a visitor, you're treated as if you've done something wrong from the moment you enter the jail's premises. From the extraordinarily long lines (hours, people) to the repeated searches and inability to bring anything with you — they made me store my belongings in a shady locker that I hoped would have my keys, wallet and phone when I returned — it was an exercise in stripping my personhood. To boot, I'd locked my money away but was in transit so long that mid-trip I was starving and could only look longingly at the vending machines taunting me with chips and soda. All my money was in that damn locker! My experience was a shitshow and par for the course in that situation. I respect families who endure that treatment weekly, and even daily, to keep their families together. I would not want to do it.
One woman named Ebony Fischer has relied on hourlong conjugal visits for time with her husband and says the state is essentially snatching her right to a family.
"Let me have that option," she said. "I feel like they are taking away my choice."

But officials who want the practice to be stopped say the state should not be helping to produce children who will be raised by single parents and possibly need state support. ...

Women interviewed about the visits said they would be willing to pay to defray costs. And they made it clear that the visits were not about the sex. They are about privacy in a world where every letter is opened, every call monitored.
Image via Sakhorn/Shutterstock.