Yes, the new music video for "Fixurlifeup," slated to appear on Prince and his all-female backup band 3rd Eye Girl's upcoming album Plectrum Electrum, has a message. A few messages, actually, but unlike past hits, none of them are "go fuck something." (I know, I'm kinda disappointed too).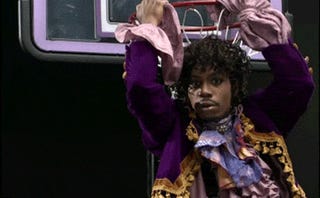 Instead, he tackles issues (bless you) like gun control, sexism and wars, also using the same split-mirror effect he does on 1984's "When Doves Cry." Sample lyrics:
"Girl with a guitar is 12 times better than another crazy band of boys/ Trying 2 be a star when you're just another brick in the misogynistic wall of a noise."