A poised and hella grown-uppish Prince Michael Jackson has landed a job as a special correspondent for Entertainment Tonight, a pretty impressive gig for a 16-year-old although though my impulse is to yell at him to stay the fuck away from show business and go work at the Dairy Queen like a normal teenager because I just want him to be happy. Alas, this is not to be. He told ET, "I'm looking to become well-rounded as a producer, director, screenwriter and actor."
Ana Gasteyer Satirizes the Girl Boss in 'American Auto'
Jackson's first assignment was to interview the cast of Oz: The Great and Powerful, to which he has a "special connection" since his dad Michael Jackson was in The Wiz. ET correspondent Brooke Anderson told him that he seemed wise for his age. He replied "That's what most of my people say. That was all thanks to my dad. He raised me right." ;___; [HuffPo, video at ET]
---
Newly-minted gadabout Leonardo DiCaprio takes a break from bragging about the women he's fucked in order to try to save the elephants. He's helping launch the World Wildlife Fund's new campaign, "Hands Off My Parts." He sent a personal e-mail out about the initiative, which calls for the Prime Minister of Thailand to ban all ivory trade in the country.
G/O Media may get a commission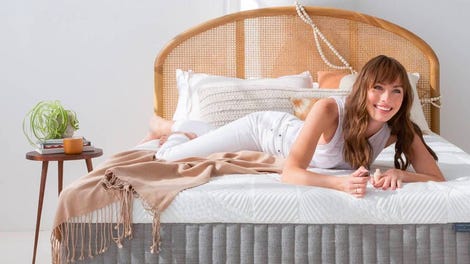 Sleep Sale
Sleep Sale - Brentwood Home
As a key step, I am joining WWF and others calling on Thailand's government to show leadership on elephant conservation by shutting down its ivory market before the country hosts a meeting of 177 nations on wildlife trade in March 2013."
Who would want to kill an elephant? A DICKHEAD, that's who. [Page Six]
---
What? The actual cutest thing in the world? That would be Alicia Keys and Swizz Beatz's son Egypt kissing Jay-Z and Beyonce's baby Blue Ivy.
I think Egypt kissed Blue, and I don't think Jay liked it very much," she told the talk-show host. "He called my husband and was like, 'Watch your son.'
That killed me, and I'm dead. [Page Six]
---
80-year-old record mogul Clive Davis comes out as bisexual in his new memoir Soundtrack of My Life, in which the twice-married, twice-divorced Davis discusses his first sexual encounter with a man in the Studio 54 days: "On this night, after imbibing enough alcohol, I was open to responding to his sexual overtures." He refers to the hookup as "a welcome relief," and divulges that he was in a relationship with an unnamed male doctor from 1990 to 2004. [Rolling Stone]
---
Far be it for me to pass up a good Dido story. When she turned 40, she fell down on her treadmill and had an accident, and now she can write a wistful song about it. With strings.
"I loved turning 40, other than flying off the treadmill while trying to get fit on my birthday on Christmas Day. That threw me out for a bit. More than a year later I still have scrapes on my legs... I was crying and laughing at the same time. I'd walked across the treadmill by mistake forgetting it was on and just went flying. That was my welcome to my forties."
Guys, remember THE Roswell THEME SONG? If it came on now I would instantly begin sobbing. [Contact Music]
---