After 10+ years watching her snowball into a bigger and more powerful force of nature—overcoming controversy after controversy with the help of her distressingly media savvy family—I feel like the slow, steady decline of Kim Kardashian has finally begun. Though once an avid viewer of Keeping Up With the Kardashians, a show that used to be fun but has devolved into an unwatchable parade of worthless, money-hungry scammers who have lost every atom of what once made them charming and relatable, I am in no way saddened by this turn of events. There really hasn't been a place for Kim's childish antics and general obliviousness in American culture for the past 18 months, and I think we're all finally starting to get the message.

With the exception of her work in getting Alice Marie Johnson out of prison, an act of kindness that was less of a character pivot than well-intentioned anomaly (or was it merely Kanye-related damage control?), her behavior in this brave new world of celebrity is no longer fun. Pettiness and ignorance can be entertaining in short bursts, but they are all she has. She has fucked up twice this week, and it's only Wednesday morning.
While backstage at Jimmy Kimmel Live, she and her sister joked about anorexia. "What? Thank you!!!" she replied when Kendall said it looked like she hasn't been eating. This drew the ire of fans and celebrities, like Emmy Rossum and the band Best Coast.
The following day, she turned her attention toward Tyson Beckford in an Instagram comment noticed by The Shade Room. After Beckford critiqued her appearance (which is it's own brand of awful behavior), Kim replied, "Sis we all know why you don't care for it," implying he wasn't sexually attracted to women. It's been (rightly) characterized as homophobic by the press and fans alike.
G/O Media may get a commission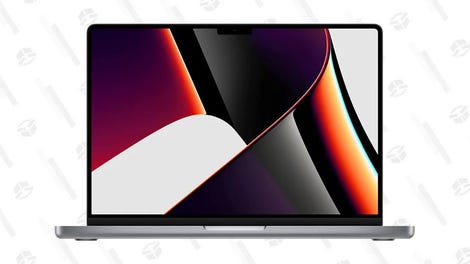 Save $300
2021 14" 1TB MacBook Pro
Celebrity gossip and reality TV can provide welcome escapes from news we'd rather ignore for an hour or two every day, and they will keep doing so until, it seems, the end of civilization. But Kim's increasingly unpleasant and downright nasty brand of celebrity—which we all helped create!—no longer fits in. We should expect more from 37-year-olds with money and power and influence in 2018, and we're not going to get it from Kimberly Kardashian. She's simply just not fun anymore, and I've lost the time and energy to waste on a celebrity like that.
[Twitter]
---
Meanwhile, Leo is in the shoe business now.
"Creating sustainable consumer products requires a deep commitment from brands that understand the role they have in helping solve our environmental crisis," DiCaprio said in an exclusive statement. "Allbirds is on the forefront of developing new materials that will serve as a model for the footwear industry. This kind of innovation is crucial for creating a more sustainable future. I am proud to join the company as an investor."
[People]
---
Hell.
---