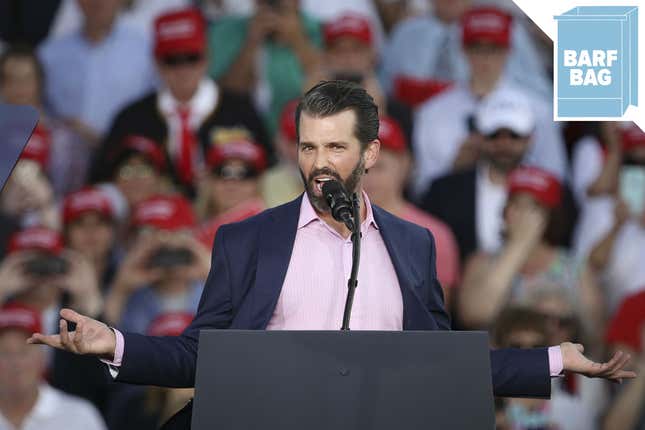 The news you love to see.
Here's all the shit we couldn't cover today:
In the competition for dad's love, Donald Trump Jr. almost always loses to the nightmare that is Ivanka. But after a string of deadly shootings, President Trump is reportedly turning away from his daughter's marginally reasonable (as in, linked to reality) ideas about gun control, in favor of those of his son. Who, uh, likes to hunt? At a Hamptons fundraiser, the president bragged that Don Jr. was "my gun expert" adding that "he knows more about guns than anyone I know." Perfectly reasonable, I say. Gulp. [Wall Street Journal]

Now that the domestic gag rule has gone into effect, Planned Parenthood may lose Title X funding as early as next week. [Vox]
The Trump administration proposed a new rule that would allow businesses to cite religious reasons as grounds to discriminate on the basis of sexual orientation, race, ethnicity, gender—a grab bag, really!—tearing down a couple decades' worth of decency. [Buzzfeed]
The will-she-or-won't-she is over for Stacey Abrams, who is not running for president. She did, however, mention that she's open to being Vice President "for any nominee." [Politico]
Here's a cool race: Jessica Cisneros, a 26-year-old immigration attorney, is taking on Rep. Harry Cuellar, a gun-toting anti-abortion piece of human excrement who, nonetheless has represented Texas in Congress for 15 years. [Vice]
A petition to name a block outside of Trump Tower "President Barack H. Obama" now has 50,000 signatures. A modest proposal: call it Harriet Tubman Ave. [Newsweek]
Here are some tweets the president was allowed to publish:
This has been Barf Bag.