"I am fired up and I cannot wait to get out there and campaign for Hillary."
On Thursday, hours after meeting privately with her opposition Senator Bernie Sanders, Obama released a video supporting Hillary Clinton's presidential campaign. CNN reports that after leaving the oval office Sanders said:
"I look forward to meeting with (Clinton) in the near future to see how we can work together to defeat Donald Trump and to create a government which represents all of us and not just the 1 percent...

"Let me begin by thanking President Obama and thanking Vice President (Joe) Biden for the degree of impartiality they established during the course of this entire process," Sanders said in brief remarks after his meeting. "What they said in the beginning is that they would not put their thumb on the scales, and in fact they kept their word, and I appreciate that very very much."
Obama has now firmly sat on the scales to tip support in the Democratic party for Clinton. In the video above, he comments on his firm belief that Hillary Clinton is the right person to take his place, saying:
I want to congratulate Hillary Clinton for making history as the presumptive Democratic nominee for President of the United States. Look, I know how hard this job can be and that's why I know why Hillary will be so good at it. In fact, I don't think there's ever been someone so qualified to hold this office.
He also commends Bernie Sanders on his campaign:
This has been a hard fought race. I know some say these primaries have somehow left the Democratic Party more divided. Well, they said that eight years ago as well. But just like eight years ago, there are millions of Americans, not just Democrats, who've cast their ballots for the very first time. And a lot of that is thanks to Senator Bernie Sanders... I thanked him for shining a spotlight on issues like economic inequality and the outsized influence of money in our politics and bringing young people into the process. Embracing that message is going to help us win in November.
G/O Media may get a commission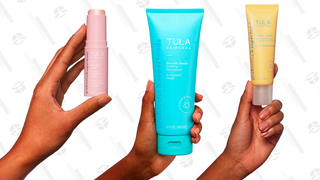 As of two minutes ago, Bernie Sanders has said:
But no sign of concession is apparent. Meanwhile, Clinton is fired up too: