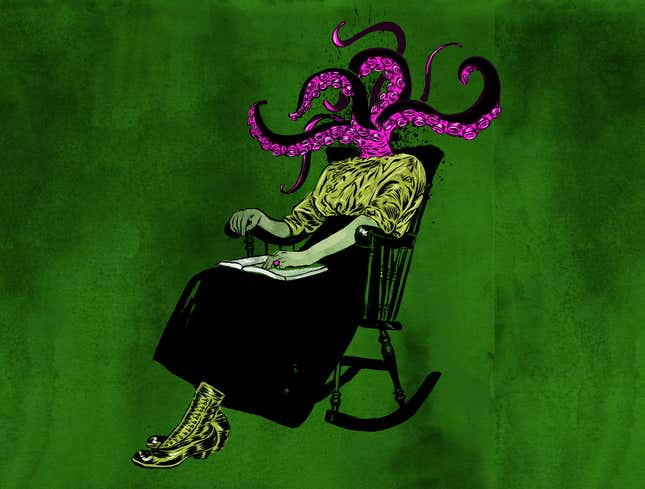 Welcome, boys and GHOULS, to Jezebel's annual Spooky Stories contest. Hope you brought your nappy bag because you're about to wet your diaper.
While some people think that Christmas morning, graduation day, and birthdays are the most highly anticipated times of the year, our readers know better. Over the past few weeks, we have received countless emails asking when we're going to post our scary story contest, proving to us once and for all that you Halloween heads really have your priorities in order.
The way this works is simple: You tell us about the spookiest, most freaky thing that's ever happened to you (ghost encounters, moon-lit run ins with serial killers, etc). There are two caveats:
1. Your story needs to be bone-chillingly, hair-raisingly scary.
2. Your story has to be true. (You are all on the honor code.)
On Friday, we will post the 10 most frightening stories and—if the success of our previous contests are any indication—you will not sleep for weeks.
To set the mood, let's take a look at a few of our past favorites:
This happened in my junior year of high school.

One evening, my mother and stepfather had gone out to some event, maybe it was an extended dinner or a concert, it's hard to remember. I had stayed at home to work on a paper that was due the next day (I was one of those kids who procrastinated until the last minute) and spent the whole night working at the desk in my room. To give you a picture of the room, my desk faces a wall and sits next to a small window that's on the same wall, and from where I sit, my back faces my doorway. While I was working, I was wearing these great headphones that I had gotten for my birthday — the kind that are noise canceling.

My parents left the house around 6:00 PM, and the whole time they were gone, I sat at my desk, blasting music through my headphones and writing my essay. Occasionally, I would take breaks and watch the rain and lightning outside my window (we lived in Houston at the time and there was a big storm that night). I never left my desk.

My parents returned around 11:00 PM. At some point late late in the evening, I had removed my headphones, so when my parents came home (coincidentally just a few minutes after I had taken off my headphones), I clearly heard the garage door open and my parents open the door to the house. Seconds after I hear them enter, I hear my mother shout my name. "Adrian!" she screams, "what on earth happened in here!?" Confused, I get out of my chair and start walking through the house to them. There's only a small hallway that separates my room from the living room. Due to my rush to figure out why my mother was yelling, I paid little attention to the hall and the house. After a few moments, I get to my parents. My mom looks livid. She's pointing at the carpet floor yelling, "Was this you!? Did you have friends over!?" I look down. The carpet is ruined. It's covered in muddy footprints.

I frantically explain to her that I have no idea how those got there, that I spent the whole night at my desk working on my paper. I watch as her face goes from anger, to confusion, to fear. We realize that someone else must have entered the house. Quickly we scan the footprints, trying to make sense of the situation. It only takes us a few moments to figure out where they start: our back door, which we usually left unlocked. Then we noticed something else. The footprints started at the backdoor, but there were no footprints exiting the back door.

We hear something pounding through our house. We hear the front door get torn open, then slammed shut with a sharp WHAM!

We all run into the garage and lock the door. My mom starts shouting at the police through the phone, "Please come quickly! Someone's broken into our house!"After what seems like hours, the police arrive. An officer stays with us in the garage as his partner goes through the house room by room. His partner tells us that it's safe to go back in, that there's no one in the house. Then she asks us a question. She asks us whose room is down the hall to the left. My parents look at me and I tell the officer that it's mine. She asks us to follow her down the hall.

As we go, it's easy to see that the footprints weave through my house from the back door. They go through the living room, through the small hallway, into my parents room (which is down the hall to the right) and then turn around towards my room. They stop in my doorway.

Then the officer points at my door, which I had left open the whole night. On it, in black sharpie, was written the following:

My Log

8:47: I see you

8:53: You forgot to lock the back door

8:59: You seem focused

9:24: Turn around

9:47: Look at me

10:15: Look at me

10:37: Look at me

10:49: Look at me

For nearly two hours, someone stood in my doorway watching me. To this day, I shutter to think about what would have happened if I had ever turned around and looked at them.
We have never figured this out. And now, the three living witnesses have to be good and fucking druuuunk to discuss the whole thing.

I was 7, my brother 10, my mom in her early 40s, my grandmother (her mom) in her 60's. So we were all cogent. No one was too young or too senile to not recall this nonsense. Yet, still no bloody answer.

Grandma lived on an isolated country road in NC that was named after her family since they were the only crazy fuckers who lived on the land for about 1000 acres. And I *do* mean crazy. We have stories about relatives that start with, "You remember that time Uncle Bob was in the ditch with a shotgun?" "WHICH TIME?!"

Her house had been empty for several weeks while she'd been visiting us in Florida, but we were all back, spending the weekend with her before trekking back to the Sunshine state. The house is in the foreal country, literally over train-tracks, past a salvage yard and her nearest neighbor (a cousin — everyone is related to everyone who owns a house on the road) ain't within screamin' distance. Yes, that seems to be a real system of measurement — "screaming distance."

It's early in the AM, like just before daybreak. We're awake because these are farm freaks who wake at the crack of dawn from sheer ingrained habit. We're eating cereal when we hear someone pull up outside. Curious, we all run to the big picture window that looks onto the front yard. There is a strange truck there. No one seems to be behind the wheel, though the engine is idling. The truck is... well, old, for one thing. It's old-timey like from maybe the 1930's? You could picture the Joad Family heading to California in this thing. It's rusted but it was probably once painted blue.

We stare at the thing, bewildered. Mom asks grandma if she knows who that is. Nope, not a clue, says grandma. She runs to get the phone to call her cousin and ask him to come up — she thinks maybe it's a hired hand and he's just at the wrong farm. Just as she asks him to come on down, the phone goes dead. Well, that's unsettling.

All at once, there is a loud, insistent banging on the front door. We all scream. My grandma, who is terrifyingly resourceful, huddles us all into the living room, away from a window where anyone can see us. Then, while mom, me and my brother tremble there on the couch, she grabs a serrated bread knife from the kitchen and cautiously approaches the front door. She peeks out a side window, very stealthily. She turns back to us and looks confused. She shakes her head, like, "No one is there." We all kind of breathe easier.

Then EVERY goddamn door in the house is banging — relentlessly. I can still hear it. Rhythmic and terrifying, like all the doors are about to splinter and crack. There were two doors in the basement beneath us, so the sound is also a reverberation at our feet. The three ground-floor doors are shaking — we can see them trembling and jerking on their hinges from our vantage point on the couch. Finally, mom runs to the window — either from a psychotic break with reality or terror, I have no clue. She cries, "Oh thank Christ — Cousin is here!" We run to her and peek out the picture window — there is no one that we can see in the yard, but we can't see all the doors from our viewpoint.

Cousin walks by truck with a shotgun in his hand. Cousin, it should be noted, has pretty much every gun ever made. He looks puzzled, looking at the rear of the truck, then he glances in the cab window and he stops. He goes pale, runs a hand down his face. Then he RUNS towards to house, towards us.

My grandmother flings open the kitchen door as she sees him coming. He shouts, "Everyone get behind the couch! Get DOWN!" He runs past us as we bolt for the couch. The banging starts AGAIN, all the doors and now we can hear the windows rattle. It's like a tornado or the end of the world. We are too scared to even scream. Cousin flings open the front door and fires the huge shotgun, once, BANG, deafening. As he does, the truck roars into life and it sounds like a train. We scramble up; the banging stops, mercifully. Cousin is advancing onto the lawn, gun leveled at the truck. We run behind him, wanting to be out of that shaking, quivering house and near the dude with the gun. The truck peals out, backwards, cutting across the yard and racing into a breakneck speed. Tires sqeal, rubber is burned. Cousin fires again and we all cower behind him. He blows out the back window with the sound of a thousand plates smashing into linoleum but the truck never even hiccups, just roars down the road. No tags, not even a vanity plate on the back.

There was NO ONE behind the wheel of that thing.

We all had a clear view. Everyone agreed. Not a driver in the cab.

Well.

Not anything we could SEE, anyhow.

The police were called. The phone line had been cut. There was not a single boot print in the entire yard except Cousin's, from where he'd run into and out of the house. Cousin reported that there had been no plate but when he looked into the cab, it looked like "something from a horror movie." He said there were all kinds of weird restraints — handcuffs, c-clamps, nylon straps — and he said the floorboards looked covered in what "smelled like" blood to him (Cousin was famous for his keen sense of smell and the window was down, so it's possible).

Cousin said he thought he saw a blur of something out the picture window and ran to fire the first shot, but "missed" because, once he stood there, nothing or no one was on the lawn or in the truck. Then it shot backwards out of the yard and out of our lives, leaving no answers, just a deep sense of unease every time we'd visit.

Grandma and Cousin have passed. Deeply religious people, they stuck by their unchanging versions of the story until they died. My brother, mother and I have never been able to figure it out — neither did the cops, I think it should be noted. We don't know how all the windows and doors were banging, and we don't know why we never saw a SOUL anywhere or how they could get around the sides of the house without leaving a trace in the damp earth.
A few years later we left our little cabin in the woods to move to a new house a bit closer to town. I had my very own room and spent a lot of time in it playing alone and reading in it.

Every now and then, I would hear what sounded like footsteps or banging coming from below my floorboards. I guessed it was just normal house sounds, maybe pipes, and I got used to it. After a few months of pretty non-stop banging - which no one else could hear - things started to escalate. Heavy furniture started falling down on its own. A solid oak dresser simply toppled over as I was sitting on my bed, across the room, reading.

A few days later, I was playing with my Teddy Ruxpin doll when it suddenly drained of batteries. I asked my father to put new ones in, only to find that they ran down again almost immediately. We assumed the toy was broken and forgot about it.

From the day we had arrived in the house, I had known I wasn't alone in that room. I had grown up in isolation and know what that felt like - this was different. I started responding to the knocking sounds, "Stop it! I'm trying to read."

My mother was moderately concerned, but assumed I was just playing with an imaginary friend. A few months later, I had started to experience odd dreams in which I relived very commonplace memories in the house. For example, I remembered in vivid detail walking between the laundry room and my mother's art studio, sliding my little body between the framing. I knew for certain that the framing had been up for some time before they got around to sheet rocking.I asked my mother over breakfast one morning when it was that we'd finished the basement. She looked at me, puzzled, and responded that the basement had in fact always been finished.

The banging sounds got louder, nothing battery powered would last more than a few minutes in my room and things were constantly moving around. Small items - diaries, stuffed animals, keep sakes, would rearrange themselves on a near daily basis. I felt that whatever I was sharing my room with was angry, scared - like the puppy we had adopted years ago. I started speaking to 'it' more, and at this point started to feel strongly that whatever it was I living with, was female. The more I spoke out loud, the less things moved about. I felt a kind of longing, like I had knocked on a door and was waiting to be let in.

One night I woke from sleep inexplicably. I decided to get up to have a drink of water, and walked across the hall into the bathroom. Now, I should mention that this house had been built in the 1970s and there were many small mirrors, gold flecked, throughout. The bathroom, however, had an entire wall of mirrors that you looked into as you sat to pee. Bleary eyed I shuffled into the bathroom and sat down. Suddenly my skin turned to gooseflesh and I felt as though cold water had been poured down the back of my neck. I stood up, panicked, only to line my reflection up with a figure standing to face me. A figure that wasn't mine.

I tilted my head to the right and to the left. Our reflection did the same. It was me, but it wasn't me. She had shorter hair and slighter features. She wore blue pajamas where I wore a long sleeping shirt. We regarded each and I lifted my hand slowly to wave. She smiled and faded out. I waited for an hour, sat on the bathroom floor, waiting for her to reappear. Finally, I crept back to bed but couldn't sleep.

The next morning I was riding along in the car with my mother and asked, "Do you know who lived in this house, before we did?" My mother answered nonchalantly, "The woman who lived here before us was a reporter."

I asked, "Did she have a daughter?"

My mother tensed, "Why would you ask that?"

I didn't answer.

"She didn't," my mother went on, "but she was convicted of a crime that involved a little girl." My mother trailed off.

She knew that I was a strange child, and I suspect at this moment she realized that in fact my imaginary friend might be something entirely different.

"What did they do to her?" I asked cautiously. "Well," my mother began, "the woman who lived here helped her boyfriend to abduct this little girl, and she was never found."

I sat quietly for a moment and then, as my mother reports it, said very slowly, "She never left our house." I watched my mother's knuckles turn white on the steering wheel. I thought I was in trouble.

You see, when my parents looked at our new home they had wondered about the low price. The house had been foreclosed when its previous occupant had been sent to jail. A few families had come to look at it, but in a small and very religious community, people were hesitant to move in to a house associated with so much darkness. We were poor, and my parents had two children living on top of one another in a cabin with no central heating - they didn't have the luxury of worrying about the stigma of living in a house with a complicated history.

A few months later we moved into a condo on the other side of town. My parents never explained the move to us, as children, but I always suspected that it was because my mother was afraid of my relationship with the girl in my bedroom. In the few months we lived in the house I had never been able to look in the crawl space, a dark, meter high area that ran the length of the house. It had clay, dirt floors and a small light you had to crawl to on all fours. The day we moved our things away, I went down to the basement to say my good byes. She had been kept there, I was sure of it. How else would I have had her memories of the basement unfinished? As I turned to walk up the stairs, the lightbulb in the crawlspace flickered on, swinging. Just for a second. She was reaching out one more time, telling me where she was, asking me to free her, too.
Scared yet?
---
Contact the author at madeleine@jezebel.com.
Illustration by Jim Cooke.