A pregnant woman in Ireland who is is two weeks overdue, according to her records at Waterford Regional Hospital, was taken to High Court after refusing the C-section procedure recommended by hospital staff. The woman, who insists that her due date is actually March 18th, in contradiction with the medically-determined date, delivered a previous child via C-section in 2010.
The resulting scar on her uterus, if she were to deliver this child naturally, would pose a life-threatening risk to the mother and child. Before the trial was over, she had consented to the procedure.
As of this October, the rate of C-sections in Ireland was 38% higher than the target set by the nation's Health Service Executive; awareness has been steadily increasing both abroad and domestically that C-Sections, while in some cases necessary to save the life of the mother and/or child, are often elected for the sake of convenience and reduced liability.
Meanwhile, a pregnant Florida woman named Lisa Epsteen was warned by her obstetrician that he'd sic the cops on her if she didn't elect to have a C-Section due to her high-risk pregnancy. "I would hate to move to the most extreme option, which is having law enforcement pick you up at your home and bring you in, but you are leaving the providers of USF/TGH no choice," he wrote to Epsteen, who quickly consented but now fears returning to the same hospital for the procedure.
Said Epsteen, who delivered her four previous children via C-Section:
"In a couple of hours there are going to be cops on my doorstep taking me away from home - in front of my children - to force me into having surgery... There are any number of things that they could have done without threatening me."

"Honestly, I feel abandoned. There has to be a level of trust between provider and patient, and that has been betrayed. It's circumstances like this that make women feel like they have no options but to birth their babies on their own - and put themselves in more dangerous circumstances - because they feel bullied."
G/O Media may get a commission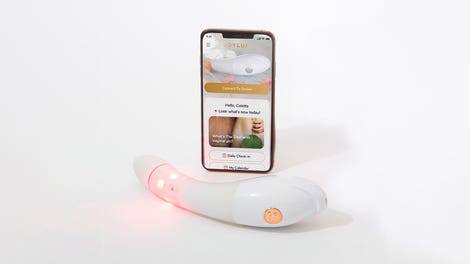 $50 Off
Joylux vFit Gold Device
An attorney for the National Advocates for Pregnant Women rapidly became involved in Epsteen's case. "Pregnant women are no different than anybody else in terms of their constitutional and human rights... The threat [Epsteen's doctor] was making was both legally and ethically unjustifiable."
'Woman agrees to caesarean after hospital goes to court' [Irish Times]
'USF obstetrician threatens to call police if patient doesn't report for c-section' [Tampa Bay Times]
Image via pan_kung/Shutterstock