BLESSED BE. VIDEO HAS EMERGED OF JAMIE LYNN SPEARS WAVING AROUND A KNIFE IN A PITA RESTAURANT. WHATEVER ELSE HAPPENS TO YOU TODAY, REMEMBER THAT THIS GIFT HAPPENED FIRST.
Surveillance video from the Pita Pit in Hammond, Louisiana, shows Jamie Lynn Spears, younger sister of Britney, breaking up a large fight by dragging her friend to safety, going behind the sandwich counter, pulling out a knife and waving it at the brawlers (all done with calm and confidence).
Via TMZ:
It's a wild scene — she pulls her gf out of the scrum ... then, when the dudes keep going at it ... Jamie Lynn, mother of a 6-year-old, struts behind the counter, grabs the knife and waves it around. While she never cuts anyone ... the threat was enough to break up the fight.
Please give this hero her own Vegas residency.
[TMZ]
---
G/O Media may get a commission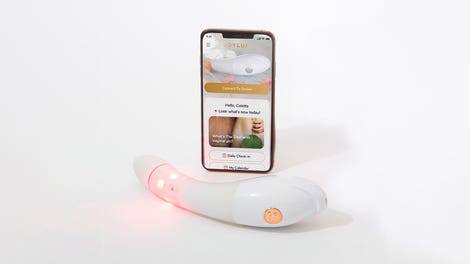 $50 Off
Joylux vFit Gold Device
Margaret Cho has responded to criticism and accusations of racism regarding her mocking of North Korea at the Golden Globes. "I'm of mixed North/South Korean descent. You imprison, starve and brainwash my people, you get made fun of by me," she tweeted. Later, talking to Buzzfeed, she revisited the topic, saying:
"I'm of North and South Korean descent, and I do impressions of my family and my work all the time, and this is just another example of that.I am from this culture. I am from this tribe. And so I'm able to comment on it.

I can do whatever I want when it comes to Koreans - North Koreans, South Korean. I'm not playing the race card, I'm playing the rice card. I'm the only person in the world, probably, that can make these jokes and not be placed in a labor camp."
---
Haunted innkeeper Billy Bob Thornton would very much like to have sex with his ex wife's current husband's ex wife. Offered up Reese Witherspoon and Jennifer Aniston in a game of Would You Rather, Thornton immediately answered Jennifer Aniston, then adding, "Lifelong goal. That's all I'm sayin.'" This is the plot of The Ice Storm 2: Hollywood Nights. [E! Online]
---
Photos via TMZ/Screengrab/Getty.