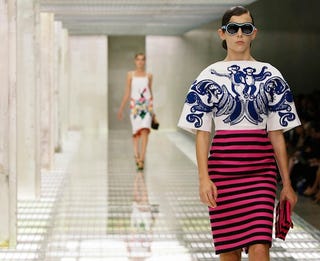 If you like your fashion full of color and whimsy (looking at you, Mondo from Project Runway) then you'll dig the duds Prada showed in Milan today. Grab your favorite star-bellied Sneetch and check out the gallery!
Would you wear this in a box? Would you wear this with a fox?
Insert your own, "the goggles, they do nothing" joke.
Willy Wonka's wife. Or sister?
This actually seems wearable, although the neck ruffle is a mite fussy.
How To Make This Prada Ensemble At Home:
Get an overly large white T-shirt and cut it into a slipdress.
Find some transfer paper.
In photoshop, take a famous illustration of Josephine Baker. Put an octopus where the bananas should be. Add a strawberry.
Add some other random curlicues.
Print your design and iron it on to your t-shirt dress.
Sew Froot Loops to the hem as a garnish.
Serves one.
It will be interesting to see who in Hollywood will attempt to pull this off. I vote for Janice Dickinson.
Aha! That's what happened to Joséphine's bananas. Also, bring back the goggles. This is an eye-scorcher.
More rooty tooty fresh n' fruity. With delicious shoes.
Gah. The sunglasses are right on that edge of appealing and appalling. If only affording this kind of Chocolate Factory chic didn't involve selling an organ. These would be fun!
SHOES. WANT. No, really. NEED.
(RIP cheshire cat.)
A nurse at the hospital where Rainbow Brite was born.
The concentric circles are so dizzying, it's like smoking Grickle-grass.
[Images via AP.]