Images understood to be from Prada's spring campaign have leaked. The ads may not have undergone final retouching (we can't tell) but all signs point to their authenticity. Other sites have removed the pictures, but we believe they're pretty newsworthy!
The seven images, featuring models Kinga Rajzak, Mariacarla Boscono, Arizona Muse, Tati Cotliar, and Zuzanna Bijoch, were uploaded to Flickr two days ago by a user of the insider-y modeling industry message board the Fashion Spot. The user claimed the images were part of Steven Meisel's spring campaign for Prada. Once the pictures were reposted by the blog Fashion Copious, they began spreading over the web. We've contacted the individual who claimed responsibility for leaking the images to ask him how he came by them; we'll update if we receive any response.
Yesterday, Fashion Copious redacted its post and removed the images, following a takedown notice from Art + Commerce, which represents Steven Meisel. The fact that Meisel's agents acted swiftly to try and suppress the images, coupled with the fact that they clearly depict looks from Prada's spring runway collection, seems to suggest that these are in fact images from a real Prada campaign. Among the other blogs that had reposted the pictures, Fashionista, Fashion Gone Rogue, and Rock The Trend have all removed their posts without explanation, presumably after receiving similar takedown notices from Meisel's people. The Fashion Spot has similarly removed the thread that discussed the leaked images, as well as the original post that started the leak.
We don't intend to remove these images. Luxury companies love to control every aspect of the dissemination of their advertising, because that advertising directly impacts their brand image, and therefore their ability to continue charging $455 for a wallet. Who could forget Donatella Versace's reaction — as reported in the New Yorker — to seeing an ad that she did not believe reflected Versace's current "values" in the pages of American Vogue?
Suddenly, she homed in on a page, letting her black sunglasses slip down the bridge of her nose and then teeter around her jawbone. Summoning a crew of retainers to the table, she jabbed a finger at page 111: a fashion spread of an austere Versace coat, shaped like a bell and trimmed at the hem with a band of gray fox fur. Facing it, on page 110, was a Versace advertisement showcasing a baby-pink ceramic watch, studded with pink diamonds. "I need my phone," she said.

Within seconds, she was on the line with a team of attorneys in Milan. Evidently, the ad was outdated and had been placed by a licensee, without Donatella's consent. The juxtaposition of the two photographs was accidental, but the effect was embarrassingly inconsistent. For years, Versace upheld a reputation as the loudest, louchest, most decadent name in fashion, but recently the company has aspired to a quieter image—less superlative than comparative, the sort that might improve its fortunes at department stores in the "better ladies' apparel" section. "She's saying, 'Send them a legal letter,' " an assistant explained, translating from Italian the escalating blasts of contempt. "She never approved that image. The new ad campaign is supposed to have a cleaner look."

"Non si deve permettere!" Donatella continued, flicking her cigarette in the direction of an ashtray etched with Versace's emblem, a Medusa head. "Mai piu!"
G/O Media may get a commission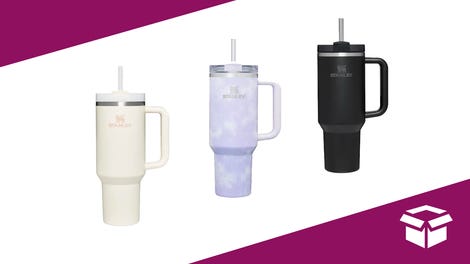 Up to 45% off
Stanley Cup Sale
Luxury companies treat the debuts of their seasonal ad campaigns like the meticulously planned branding exercises they are; they want their pictures to be released in the venues they prefer (which are generally print venues) and in the form that they prefer (which is generally the complete and finalized form, with maybe a couple retouched-but-relatively-candid "behind-the-scenes" snaps, for that veneer of "authenticity"). Luxury companies certainly don't like it when for reasons totally outside of their control those images are leaked early — and who can blame them? But it's not the media's job to play along with luxury brands. And it's not the media's job to make believe that a leak, when one occurs, hasn't happened, and to dutifully scrub the Internet of all evidence of said leak. Like it or not, this is news — these images, and the circumstances in which they came to be revealed, are the story here. They provide a rare and interesting insight into the process of image-making that drives the fashion industry. And they'll be a nice point of reference when the final campaign eventually does come out, against which the public will be able to judge further retouching and post-production alterations.
So write us a takedown letter if you must, Mr. Meisel. We don't intend to comply.